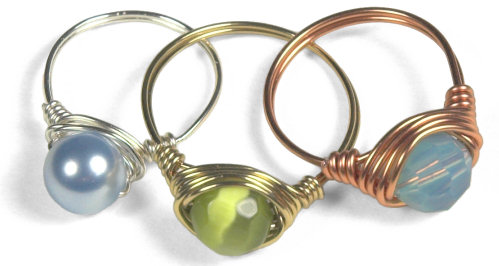 Supplies Needed For This Project:
Flat Nose Pliers
Wire Cutters
Optional Round Nose Pliers
Focal Bead (Swarovski Pearl or Similar)
2 1/2 Feet of 18 Gauge Wire
Ring Mandrel
Note: I'll have a few colors of 18 Gage Wire & Focal Beads available for anyone that just wants to learn a new technique without worrying about getting supplies. $2 per ring should cover supplies.
Also, there will be one set of tools and a ring mandrel available for use by the group. If you have tools or a ring mandrel, please bring it, as it will free up the group tools and help speed along the creation process.
Please note: Due to the limited size of this class, the ability to guests when RSVPing have been turned off for this event. If you would like to bring someone to this event, please send them a link and have them RSVP.
THE VENUE: All Hands Active
To actually locate All Hands Active, you'll want to head towards Michigan Theater. To the west, not far from the Theater, you'll see a door for Digital Ops. Take the flight of stairs down to a basement of techy awesomeness that is All Hands Active. It's a small room, shouldn't have any problem finding us once you're in the space.