Well, I had started this writeup and then set aside my research and then I get a notice from Meetup and lo and behold, it's already filled up! So, okay peeps... we'll do two tables and this will be a family style dinner, meaning that we all share in the various dishes and the bill is equally divided excepting if you order drinks, desserts or food to go that you will pay over and above the shared portion. If you don't eat pork or have food allergies or are a vegetarian, this event is probably not for you.
So let's explore some of the various Chinese noodle dishes available in Chinatown. Our journey begins at the Phoenix Inn. I haven't eaten here in at least a couple decades, but my dad used to have lunch here all the time. Some of our members really like this place, so I think I need to revisit this place and let our journey begin.
They have a few interesting dishes as well if we have some adventurous foodies so maybe we order some exotic dishes such as the duck tongues or chicken feet appetizers. We will order more than just noodle dishes so that it will be a more balanced meal. Probably a whole crispy duck, walnut shrimp, a veggie dish so that we can sample some of the Cantonese standards. It's gonna be a inexpensive meal, most likely under $20 but please bring at least $25 in cash to pay your share of the bill. This will be for an 8-12 course dinner...
Here's a PDF file with their menu
Looking over the menu... I see it is somewhat eclectic with dishes from many different countries. So keep an open mind and let's explore some of the Chinese noodle dishes together.
My plan is to host a Noodlemania event every 2-4 weeks for several months. The next event I think will feature Lobster Noodles and plenty of seafood dishes... so that will be a bit pricier than this event...
Please be on time: Being late to a dinner is just plain rude and with a group of 18, we will not wait for late arrivers, so please use your best efforts to arrive on time. Meet at 7:00pm and I plan on ordering by no later than 7:15 or 7:20p. If you can't arrive on time, please don't sign up or else email Darrell and let me know what time you can arrive here. If you arrive late, please don't tell me about the traffic, GPS was wrong, couldn't find parking, train engineer got lost... I really don't want to hear the excuses... I've heard them all... too many times to count.
Allow about 10 minutes to find parking. There's metered street parking and parking lots for $5-10. Forget finding any free parking unless you arrive about 20-30 minutes and are willing to walk 1/2 mile or more.
Public Transportation: The Union Station Metro rail station is about a 1/2 mile away and within walking distance but plan to arrive there by 6:30p if you want to take the Red Line so that you can allow time to walk to the restaurant. This is a great option if you live in the Valley and can just park free at the NoHo/Universal City Metro Station for a nice relaxed fast train ride to Chinatown.
Noodles... Noodles... Noodles
Chinese Noodles... There's wheat noodles, egg noodles, rice noodles, flat noodles, myung bean noodles, dim sum wrappers, won ton... There's a huge variety of noodles that originated from the various regions of China. Italian pastas and Japanese ramen dishes were derivatives from Chinese noodle dishes and yet, we pay a premium as compared to our humble Chinese noodle dishes.
Lo Mein Minced Shrimp & Pork
Spicy Artic Clam & Jelly Fish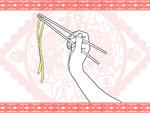 La mian
The finest of these hand-pulled noodles are leavened and stretched in the style of Lanzhou, a city in the dusty mountains of Northwestern China. They have a dense, springy texture and are traditionally served in a beef or mutton broth or stir-fried in tomato sauce.
Where to get them: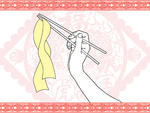 Biang biang mian
These thick, hand-pulled wheat noodles are commonly used in hearty country-style soups  from China's north-central Shaanxi region. Their onomatopoeic name allegedly comes from the sound of the dough slapping counter as it's stretched. 
Where to get them: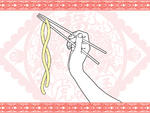 Cu mian
Usually panfried with sliced veggies and pork, these udon-like wheat noodles are a staple of Shanghainese street food.
Where to get them: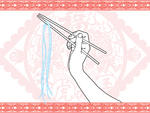 Fen tiao
Made from absorbent starch, these fine glass noodles are an excellent vehicle for intense flavors, like the scorching pork-and-chili sauce in the Szechuan classic "Ants Climbing a Tree" (ma yi shang shu).
Where to get them: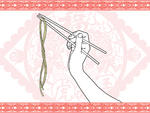 You mian
Particularly popular in Cantonese cuisine, these fine egg noodles can be stir-fried or quickly blanched in a broth. When done right, they add a nice al dente texture to wonton soup.
Where to get them: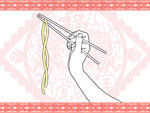 Mi xian
There are innumerable variations on the rice noodle, but the Yunnan style, mi xian—from the rainforests bordering Southeast Asia—is reputed to be the most fragrant and flavorful, and is typically served in light, fresh soups.
Where to get them: