This is one of the newest Chinese restaurants to open in Chinatown. It is upstairs on the 2nd floor. Three tables! Lobster Noodles!We'll do three tables and this will be a family style dinner, meaning that we all share in the various dishes and the bill is equally divided excepting if you order drinks, desserts or food to go that you will pay over and above the shared portion. If you don't eat seafood, pork or have food allergies or are a vegetarian, this event is probably not for you.
So let's explore some of the various Chinese noodle dishes available in Chinatown. Our journey continues here at this relatively new resto. I haven't eaten here in but I did poke my head in here just as it was closing for the evening a few months ago. This will be more expensive than Noodlemania #1 as this one will be more seafood oriented so expect the price to be in the $25-35 range and so please bring $40 cash to be safe.
After dinner, optionally, we can explore Chinatown Summer Nites! Live music, DJ, beer garden, dancing, Cooking demo, martial arts demonstrations and more. This is all free!
Below: Lobster with Yee-Fu Noddle
Below: Sliced Prime Rib with Mixed Fresh Mushrooms
Their seafood dishes look enticing. We will order more than just noodle dishes so that it will be a more balanced meal.This will be for an 10-12 course dinner... I will be ordering for the tables and all the dishes will be the same as the dinner will be banquet style.
No menu that I could find, but they do have a Facebook page
Looking over the menu... I see it is somewhat eclectic with dishes from different countries. So keep an open mind and let's explore some of the Chinese noodle dishes together.
My plan is to host a Noodlemania event every 2-4 weeks for several months. The next event I think will feature filled pastas... aka Dim Sum!
Please be on time: Being late to a dinner is just plain rude and with a group of 18, we will not wait for late arrivers, so please use your best efforts to arrive on time. Meet at 6:00pm and I plan on ordering by no later than 6:15 or 6:20p. If you can't arrive on time, please don't sign up or else email Darrell and let me know what time you can arrive here. If you arrive late, please don't tell me about the traffic, GPS was wrong, couldn't find parking, train engineer got lost... I really don't want to hear the excuses... I've heard them all... too many times to count.
Allow about 20 minutes to find parking. This is because it is also Chinatown Summer Nights and after dinner, there will be live music and all kind of stuff happening. So find a parking spot that you can park all night at. There's metered street parking and parking lots for $5-10. Forget finding any free parking unless you arrive about 20-30 minutes and are willing to walk 1/2 mile or more.
Public Transportation: The Union Station Metro rail station is about a 1/2 mile away and within walking distance but plan to arrive there by 6:30p if you want to take the Red Line so that you can allow time to walk to the restaurant. This is a great option if you live in the Valley and can just park free at the NoHo/Universal City Metro Station for a nice relaxed fast train ride to Chinatown.
REFUNDS: ALL refunds will be made the next day after the event is held. This includes refunds for those that un-rsvp prior to the event that are due a refund. This saves me a LOT of time. Thank you for understanding. Attend the event for a 100% Refund of your deposit. Note: to obtain a refund if you un-rsvp, you must do so at least THREE (3) days prior to the event. This is a policy change for me as lately, so many members will lock up a seat and 1 day before the event, they cancel and most of the other members have made other plans so the seats do not get filled. Sorry...
Supporting Members: If this event is full and you want to sign up for this event, please email me as I try to reserve a few seats for S.M.'s during the 1st week the event is posted for events that I think will be very popular.
Noodles... Noodles... Noodles
Chinese Noodles... There's wheat noodles, egg noodles, rice noodles, flat noodles, myung bean noodles, dim sum wrappers, won ton... There's a huge variety of noodles that originated from the various regions of China. Italian pastas and Japanese ramen dishes were derivatives from Chinese noodle dishes and yet, we pay a premium as compared to our humble Chinese noodle dishes. The noodle names are in Mandarin I believe so I'm not familiar with the Chinese names.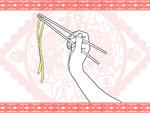 La mian
 The finest of these hand-pulled noodles are leavened and stretched in the style of Lanzhou, a city in the dusty mountains of Northwestern China. They have a dense, springy texture and are traditionally served in a beef or mutton broth or stir-fried in tomato sauce. Where to get them: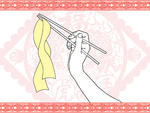 Biang biang mian
These thick, hand-pulled wheat noodles are commonly used in hearty country-style soups  from China's north-central Shaanxi region. Their onomatopoeic name allegedly comes from the sound of the dough slapping counter as it's stretched.  Where to get them: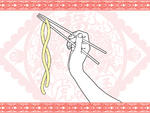 Cu mian
 Usually panfried with sliced veggies and pork, these udon-like wheat noodles are a staple of Shanghainese street food. Where to get them: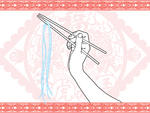 Fen tiao
 Made from absorbent starch, these fine glass noodles are an excellent vehicle for intense flavors, like the scorching pork-and-chili sauce in the Szechuan classic "Ants Climbing a Tree" (ma yi shang shu). Where to get them: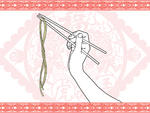 You mian
Particularly popular in Cantonese cuisine, these fine egg noodles can be stir-fried or quickly blanched in a broth. When done right, they add a nice al dente texture to wonton soup. Where to get them: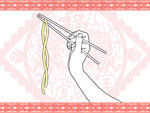 Mi xian
There are innumerable variations on the rice noodle, but the Yunnan style, mi xian—from the rainforests bordering Southeast Asia—is reputed to be the most fragrant and flavorful, and is typically served in light, fresh soups. 
Chinatown Summer Nites
Central Plaza
"New Chinatown" Photo Booth (6pm-10pm)Original Vintage Cutouts Circa 1940
Capuchin Monkey & Trainer (6pm-9pm)Note: The monkey will approach you but please do not touch or pet the monkey.
KCRW Main Stage8:00pm  KCRW DJ Mario Cotto10:00pm  KCRW DJ Raul Campos
LA WEEKLY Live Music StageCurated by Kevin Bronson of Buzzbandla.com5 PM Paper Pilots6 PM The Vim Dicta7 PM Soft Swells8 PM Salt Petal9 PM Fever the Ghost10 PM Hot As Sun11 PM Incan Abraham
Craft Beer Garden 5pm-midnightTBA
Food Trucks 5pm-midnightBabys BadAss BurgerCrepe N AroundDon ChowFluff IceFlying PigIndia JonesJogasaki BurritoLobo TruckLudo TruckTrailer Park TruckYalla Truck
LACE Market 5pm-midnight
West Plaza
Family Workshop (5pm-8pm)TBA
Artisan (5pm-9:30pm)Calligraphy by Guojian CuiCandy Sculpture by Shinobu IchiyanagiClay Sculpture by Keluo XuDough Sculpture by Chris LeeRoaming Magician by Minh Tran
Culinary StageHosted by Eddie Lin, of Kamikaze Kitchen & Deep End DiningTBA
Mandarin Plaza - 970 N. Broadway
Paper-Folded SnakeJoin us to break the world record for Chinese Paper Folding.
Wishing SnakeMake a wish and the donations will benefit the Chinatown Service Center Youth Center.
Ping Pong