FREE to be part of a live audience of LET'S MAKE A DEAL!
If you have a costume you can wear, you can attend this event.
UPDATE 3: Dress Code
DRESS CODE AND COSTUME INFORMATION: We encourage all potential contestants to dress in costume. Costumes should be fun, creative, and neat. The more original and creative the costume, the better chance you'll have of catching Wayne's attention and maybe winning some cash or prizes! It's your chance to show off your costume ideas on television. We love seeing everyone's unique ideas.

Please do not wear costumes with recognizable cartoon, television, movie, or other copyrighted characters, or include any items that have designer names, corporate or sports team names or logos, copyrighted images, celebrity names or images (living or deceased), cartoon character images. If you do wear such clothing, and are selected to be a contestant, you may be required to remove it, turn it inside out, or put on additional clothing to cover it.
UPDATE 2: This event date is soon approaching and each attendee is required to wear a costume. By 05/30/13, please indicate the costume you (and your guest) will wear to the show on the below message board. If you cannot indicate your costume by this date, I must move you to waiting or not attending list. Thanks.
UPDATE 1: Each of us have to dress up in a costume in order to be part of the studio audience. If any person is not in a costume, there's good chance that person will be turned away and may not sit through the taping. So please think of a costume to wear. If you cannot wear a costume, please de-rsvp.
The taping of Price Is Right (July 3rd) does not require a costume so you may want to attend that show and potentially win lots of prizes. May be... A NEW CAR!
We will attend a live taping of Let's Make A Deal. Audience members are eligible to win prizes. Wearing a costume is optional but encouraged. If you're not wearing a costume, you may not get selected to win prizes. So wear a costume and Let's Make A Deal!
You can bring your friends but you must rsvp everyone here in order to reserve a ticket for each person. Each person must be 18+ years old and NOT be a person who potentially can cause any harm to anyone.
Arrive at Sunset Bronson Studios by 12:30 p.m. Live taping is approximately 4 hours from 1 p.m. to 5 p.m. More details to follow.
Let's Make a Deal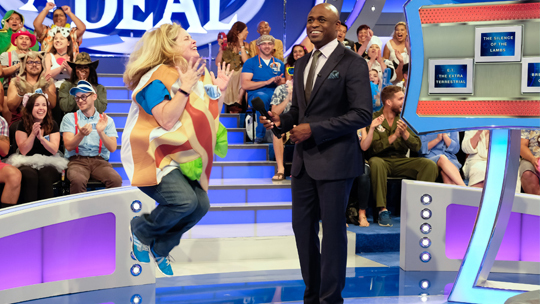 Over $1,600,000 in cash and prizes already given away this season! That's an average of $80,000 in cash and prizes per day. With only 210 people in the audience, Let's Make A Deal has the best odds in town to win! DON'T MISS OUT. Come make a deal with Wayne Brady in Los Angeles!
Get creative with your costume and have some fun! It's your chance to show off your costume ideas on television. We love seeing everyone's unique ideas. See our Photo Gallery below for costume thoughts.

Be sure to follow Let's Make A Deal on Twitter @LetsMakeDealCBS to find out helpful hints to what may happen at your specific taping. Producers Tweet what Wayne will ask for in some of the Quickie Deals!
What are Quickie Deals???? See below...
ABOUT "Quickie Deals"....
Audience members...bring random items in your pockets! Wayne may ask for one and if you have it - you win CASH!!
Please remember, as an audience member, you may not reveal that you have the item until you are approached and asked for it by one of our hosts. In other words, please don't tell or show anyone the item before you are asked for it.
If an audience member does reveal an item before being asked to do so, he/she may be disqualified from receiving the prize at producer's sole discretion.