What better ways to make new friends than an ice breaker game followed by dancing the night away with your new friends?  What's even better, you get to experience one of the most awesome DJs in the world at one of the hottest night club in LA on the same evening.
Join us this Friday night for a Friendship Circle Mixer follow by an evening of dancing with your new Friends at Exchange LA Night Club.  You get to stick around and listen to Paris & Simo for Free. The $10 cover charge covers the mixer and you get to stay in the club afterward.  Tickets for the club will cost you $24.06 via the club's website or $30 at the door.  You don't need to buy the ticket if you come to our event.  For $10, you get to mingle with your new friends and stay in the club afterwards!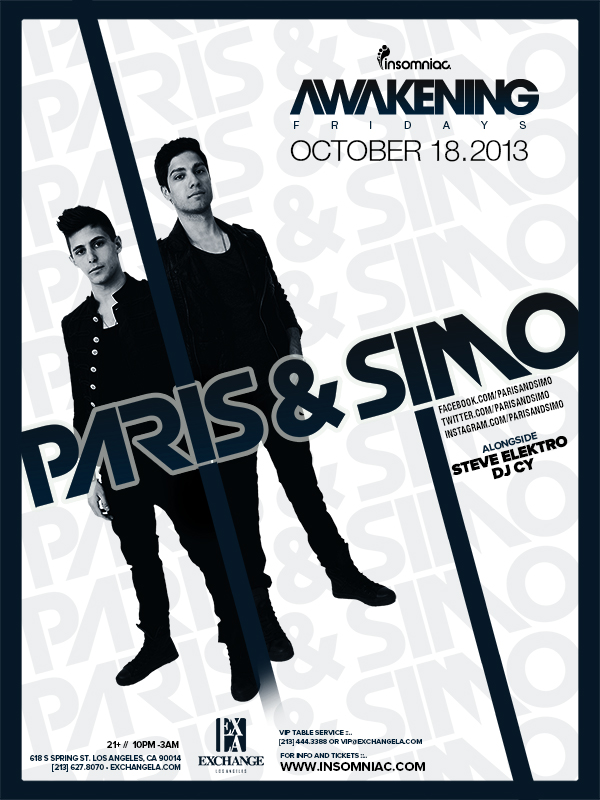 Our mixer will be held in a private room of Exchange LA between 8:30 PM till 10 PM.  We will head upstairs at 10PM as the club is open to the public.
For those that never been to Exchange LA, roam around.  This is where some of the best DJs in the world perform.  You ever heard of Armin Van Buuren or Benny Benassi.  How about John Digweed? They all been here.  This trendy, upscale club has some of the best lights and sounds system in the world.  Walk around. Enjoy the vibe.  Of course, it wouldn't hurt to dance the night away either in our room downstairs or in the main club floor with your new friends!  Either way, it's amazing!
Now, our events continue to receive great reviews. I really believe it's because most of our guests come with great attitude and, of course, the laughter are contagious too!  Lastly, we are all about connection. Let's make a friend or two or three! We can go snowboarding, hiking, or museums together in the future!
Join me and other fun peeps at Exchange LA (www.exchangeLA.com) for a great evening! The cost is $10 cash at the door. 
This Meetup event is crossed-posted on 15 meetups with Mix Professionals with Fun Events being the main meetup.  The crowd will be diverse.  All cool people welcome!

Tentative Agenda:
8:30 PM to 9:00 PM - Check-in, grab a drink, say hello to people around you. :)
9:00 PM to 10:00M -  Ice Breaker Game
10:00PM to to 3:00AM - Stick around and mingle or dance the night away at one of the hottest night clubs in Los Angeles!
Parking: You can find parking in the area; you will have to pay a small fee for the parking.  I normally park a couple of blocks away, which means no parking $$$.
If you have any questions, please feel free to shoot Anna an email.