Post #: 6
https://training.msf-...
­
I have already paid my $250 to sign up for this. I chose the MSF's own at the Discovery Rider Training Center - Lot P in Long Beach. As of right this second (as I write this), there are 8 spots left for the time I am signed up (Saturday-Sunday 4/2-3, 8:30am-5:30pm each day with an hour break for lunch).
This isn't going to be a meetup event. Just throwing it out there if you always wanted to learn, but never found someone else to go with you. Well, I already paid. You have to pay $25 to cancel and once the class starts, you don't get refunds. So, be aware of that!
I am doing it through this program so that if I complete the program satisfactorily and pass their skills test, I can skip the driving test at the DMV.
I took the same class at the same place. It is well worth it. I got my motorcycle license about 7 months ago. Let me know when you are ready to ride. Good luck, you will have fun!

definitely the best way to learn to ride.
and well worth the money.

i took this course before i got my bike and license last year.

another option is through the Harley davidson dealers. their course is a little longer and a little more expensive. but you get a little more instruction and practice riding.

Agree taking the MSF class is the best way to go. I took it 5 years ago, and it taught me things a few things which saved me from crashing. Also you get a 10% discount off your motorcycle insurance.

Post #: 7
If it wasn't clear -- it's the BasicRider course, that I signed up for.

And since I'll forget tomorrow, happy early birthday, John Brion!

Post #: 297
Yeah! Another rider!!! I took my MSF in that same spot back two years ago...
Let me know if you need help buying a bike and more importantly, gear!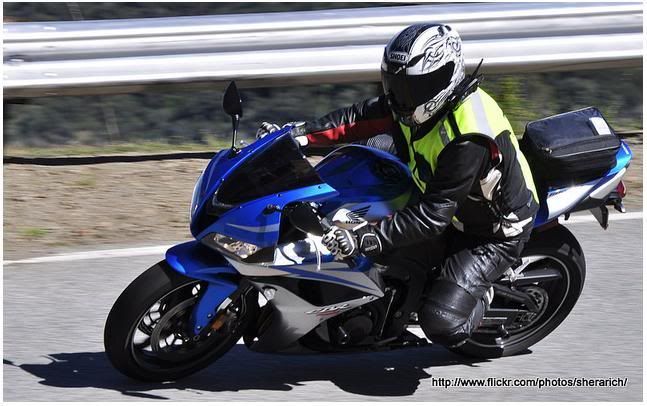 Edited by User 10,926,403 on Mar 21, 2011 6:59 AM
Post #: 8
Yeah, I wouldn't mind getting some pointers for gear... :-)

If it wasn't clear -- it's the BasicRider course, that I signed up for.

And since I'll forget tomorrow, happy early birthday, John Brion!
Thanks Curi for the Bday greeting!
I will also be glad to help you look for gear and a bike when you are ready. Just make sure your jacket has C.E. rated armor. Most jackets already has it but just make sure. Also knee/shin protection is recommended.
As for a bike the first thing you will need to determine is if you want a cruiser or sportbike. It is all preference and what you feel comfortable in. Your gear will be determined on which bike you get.
There are a couple of motorcycle meetup groups here that I am a part of and I would suggest you join them as well so you can join us on a ride one of these days.
Feel free to shoot me an email or contact me through FB and I will help you out.
John
Post #: 9
Easy. Sport, of course. :p The bike can wait a bit. I'm more interested in going to the track with my boss and friends who track their bikes. Then.... I'll buy the bike, later. Unless they come cheap in used condition. Hmm

Post #: 298
wow, going straight to the track? That is a w e s o m e.

Gear is your first priority then. If you're hitting the track, you may want to consider buying a full leather suit from AlpineStars. They run from $500+, but worth the money!

Helmets... shoei or Arai are usually top notch. Anyway, if you want to hit up a few local shops to try gear, happy to do that...

Cheap sport bikes... usually most beginners start off with a Kawasaki Ninja 250R or Suzuki SV650S, depending on your preference and height, but tracking a 250R is not too fun. Anyway, it all depends on your confidence level, budget, height, experience, etc etc etc...