Food and Fiction, is a book club meet-up for a small  group to discuss a book over dinner. There will be a maximum of 6 people at this meet-up.
Please RSVP only if you definitely plan to attend this meet-up.
The nominated book is Chetan Bhagat's - Revolution 2020.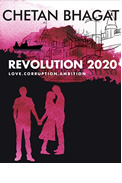 From Amazon:
Once upon a time, in small-town India, there lived two intelligent boys. One wanted to use his intelligence to make money. One wanted to use his intelligence to create a revolution. The problem was, they both loved the same girl. Welcome to Revolution 2020. A story about childhood friends Gopal, Raghav and Aarti who struggle to find success and love in Varanasi. However, it isn t easy to achieve this in an unfair society that rewards the corrupt. As Gopal gives in to the system, and Raghav fights it, who will win? From the bestselling author of Five Point Someone, one night @ the call center, The Three Mistakes of My Life and 2 States, comes another gripping tale from the heartland of India. Are you ready for the revolution? 
More Reviews from Good Read
http://www.goodreads.com/book/show/12615008-revolution-2020
More about Chetan Bhagat