"Art and music were once the voice of the people. It was an underground movement driven by the need for expression. Somewhere along the way, art became available only to the elite and music profited only the few. At that point the artist lost control of their creation'"
7 p.m. - 12 a.m. CompoundATL.comComplimentary Admission with Tickets
Private party: RSVP for free tickets at the link below:
Click here. Get Tickets now!
Click & RSVP for Our Group Gathering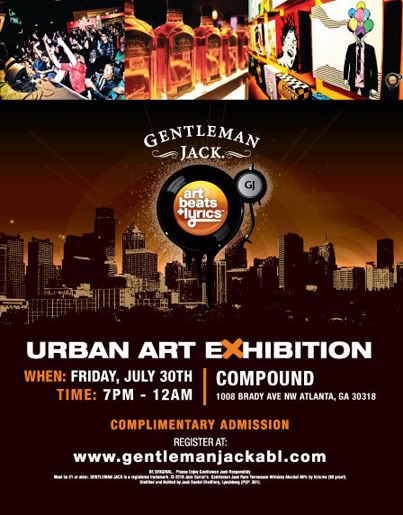 "Art, Beats + Lyrics was established in 2004 when founder Jabari Graham faced being laid off from his job. Jabari figured he could look for new employment or create it himself. He had long toyed with the idea of creating a showcase for unrecognized urban artists. Jabari decided to follow his dream, investing his savings and severance package to fund an urban art showcase in Atlanta?s eclectic Little Five Points District. The exhibition was well received. The venue held 250 people, but over 400 attended. With that initial success, Jabari teamed with Dwayne ?Dubelyoo? Wright. Dubelyoo had been creating his own art shows and brought experience, connections with artists and the inside perspective, being an artist himself, to the showcase. Together they repackaged the event and ?Art, Beats + Lyrics? was born. Positive reviews from their first show made their second show at Atlanta?s High Museum of Art an unparalleled success in both AB+L and High Museum history. The museum was filled to capacity within three hours of the show?s opening. With the success of that and several other shows the next step was to take the show on the road. The concept for the show was pitched to Jack Daniels and the partnership to produce one of the largest traveling urban art exhibition was born."
http://www.artbeatsandlyrics.com/bio.cfm
Event Hosted by: Hustle Simmons
Featured Artists include:
John Hairston
Flux
Goldie
Occasional Superstar
Michi
Never
Shannon McCollum
Gilbert Young
Mad Clout
Tindel
Mr Soul
Charly Palmer
Maurice Evans
Miya Bailey
Monica Singer
Tabia Parker
Jasiatic Anderson
Dubelyoo
Lynsey N. Weatherspoon
Mathew Curran
Kat Goduco
Dan The Man
City of Ink
Wak
Brandi Pettijon
Eric 9
Chris Hobe
Jason Phillips
CP Palmer
Terra Coles
Brandon Sadler
Musical Performances By:
Rasta Root
DJ Lord
a Live Band
& Surprise Performances
Click here to view more pics from Previous Art Beats + Lyrics
Event Posted & Meetup Gathering Hosted By:
BombSheDevil/ Dia Starr
Organizer, Atlanta Art Meetup
Twitter.com/bombshedevil
Facebook.com/bombshedevil
Myspace.com/bombshedevil