Come expand your Artistic Boundaries! [Opening]Groundwork II @ Foundation One Gallery.
| | |
| --- | --- |
| From: | BombSheDevil |
| Sent on: | Thursday, April 24, 2008 5:35 PM |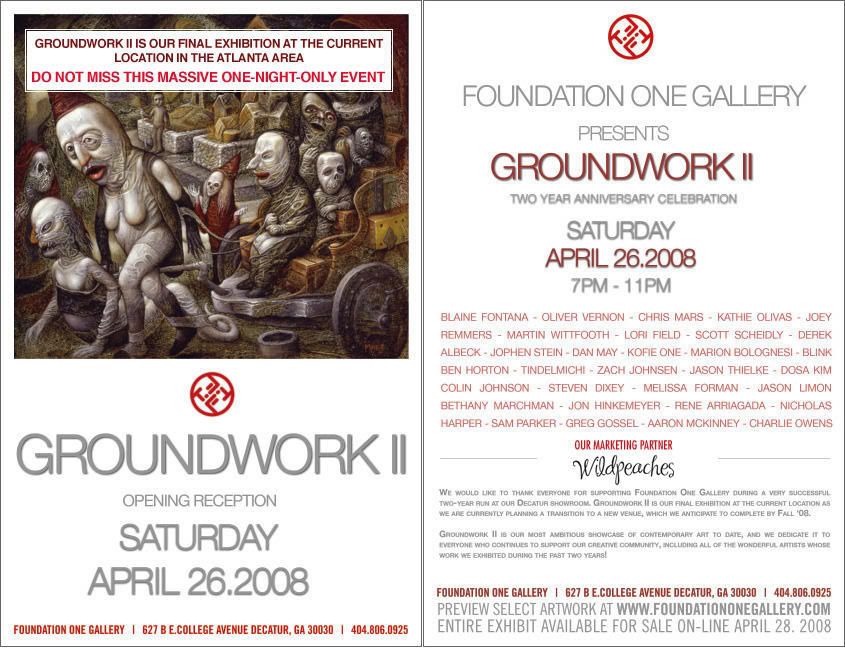 BombSheDevil says, "This show's for you! Great art provokes feelings. Come out! Bring friends and family. Lets embibe and discuss art!" Click here and RSVP for this event Now!
Foundation One Gallery is an exhibition space located in Atlanta, Georgia. They showcase local emerging talent and nationally acclaimed artists with roots in contemporary culture. This gallery is not limited to showcasing a certain genre of contemporary art. They simply strive to exhibit unique works of art that demonstrate skillful craftsmanship with emphasis on each artist's individual vision.

Foundation One's program consists of frequently rotating solo exhibitions and group shows. Each new exhibit is accompanied by an opening reception. Which allows patrons to meet the artists and often explore unique site-specific art installations. Artwork from every exhibit is available for your viewing pleasure and purchase through the gallery website. Digital high-resolution images of artwork are available upon request.Click here to browse and buy online now!
Groundwork II is the gallery's largest progresive art showcase. This show features over 65 new works by over 30 artists! It's dedicated 2 everyone who continues 2 support our community, including all artists who have exhibited during the past two years. Groundwork II features an ambitious line-up of internationally recognized talent and a carefully selected group representing the local elite of emerging artists.
Originally posted by Mikey.
Click here for his Art Meetup Profile!
Edited and promoted by BombSheDevil!
Click here for her Art Meetup Profile!