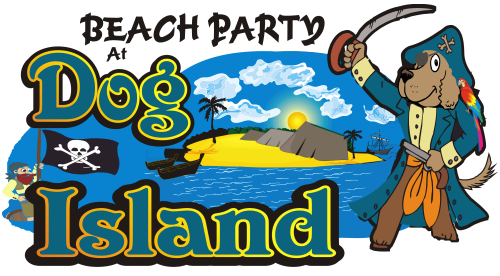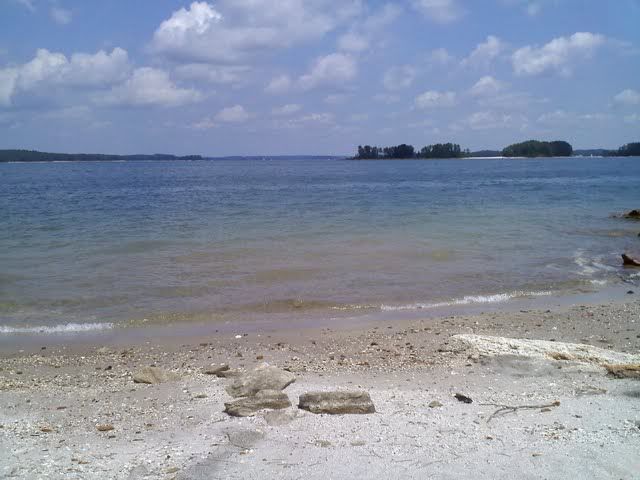 This is a dog-friendly (more dogs than people probably) beach party on a small island in a very large lake. The sandy (not clay mud) beaches and wide open views of the water and boaters gives the sensation of being on a tropical island and if it doesn't, the calypso music and refreshing beverages certainly will.
Last year was the first Dog Island beach party and was rated 5 full stars by the people that attended.
This year, we are having the party at a better island, much much closer to atlanta and we are starting it earlier in the day. With all these improvements, we still managed to cut the attendance fee nearly in half from what it was last year.
You're probably wondering if it's on an island, how do you get to the island. That's a good question.
The island is only about 200 feet from the shore line. About half of that is shallow enough to wade it, the other half you can swim it. OR if you don't want to wade it or swim it, you and your dog can catch a ride in a small inflatable dinghy on the very brief ride over to the island. If you have your own boat or kayak, you can use that. There is a convenient place to launch it in the parking lot.
The island has a sunny, sandy beach and it also has a small patch of woods. One thing it does not have is plumbing and there are no restrooms nearby. You'll need to get primitive if you need to go.
We meet at 10:30am in the parking lot. Your heavier belongings will be tendered to the island by boat. As this is happening, Carol will then guide you all to the shore. Once you get there, you have the choice of either swimming across or waiting for the raft. There is no charge to ride in the raft or anything. It's your choice.
We will relax and enjoy ourselves, have lunch on the island and if you care to stay late, we will also have dinner. Dinner will have to be ordered and delivered which is not a problem but we will deal with that once we know how many people want to stay.
Like last year we may have a small bonfire.
This year we are collecting $12 to cover drinks, snacks and supplies. Meals are not included this time. You will want to bring a lunch with you. If you choose to stay for dinner which will more than likely be pizza or Italian food, we will take up a collection for it when we are there.
This meetup is extremely challenging to organize and any number of unknown variables can change the plan, the location or end up canceling the party altogether. Please keep that in mind and be patient with your organizers who against their better judgment are giving this one another go even though it's difficult.
If you want to go, please click the "buy now" button below and submit your payment.
If you are bringing more than one person when you get to the paypal form, change the quantity to however many people you are bringing with you. For example. If you are bringing one guest, change the "quantity" to 2. In the comments section of the form, please specify what kind of drinks you would like. Beginning on Wednesday, a map and directions to the meetup location will be emailed to those who have paid. We cannot post the location here for obvious reasons however if you need a general idea of where it is, it's in forsyth county about an hour from downtown atlanta and minutes away from GA 400.

Suggested list of things to bring...
O- Dress to get wet
O- Towel to dry off with
O- Lawn chair, camp chair or plain ol beach towel or you will have nowhere to sit
O- Cleanup baggies
O- refreshments will be provided but BRING LUNCH
O- Sun protection, sunblock, hat and sunglasses.
O- If you want to bring a beach umbrella we can take that.
O- Bring some cash, you may want to stay for dinner.
O- Water shoes recommended
O- 10' nylon leash if you want to train your dog to swim.
O- Beach toys, rafts, balls etc.
Know before you go...
Secure your spot on Dog Island!
$12 per person (for drinks/supplies)
Refund policy and fee information
There is free parking.
Dogs: Strict limit of 3 per person. You must keep a close eye on your dog(s) at all times.

Deadlines:
RSVP deadline: FRIDAY 9/24, 3pm
Space may fill up quickly, do not wait until the last minute if you can help it.
Cancelation deadline:WEDS 9/22, 8am (for refund)
My refund policy
When we have a decent crowd I will cut it off so RSVP and pay early.
I will email you the meetup location, my cell phone number and precise directions when we get closer to the meetup and after you RSVP. If you don't receive the directions you need to contact me ASAP.
DIRECTIONS WILL BE SEND TO THE EMAIL ADDRESS THAT PAYPAL HAS FOR YOU. PLEASE CHECK THIS ADDRESS AND ANY SPAM FOLDERS YOU MAY HAVE.

Send me a email if you have any questions. Note, that if you have questions, please send me a message rather than posting a comment in your rsvp. I am unable to reply to "greetings" or comments in the rsvp column. Click "email me" instead.
Ready? Click the buy now button.

Last updated: Sept 18, 9:00pm