Would you go to a social event with a twist?  
Attention Singles!! Join us for the private one time singles event on Friday evening May 9th @ the Aloft Hotel at The Domain. This exclusive event is designed for our members, in their 30's.SOCIAL MATCH events are hosted every month in a major city and allows singles an opportunity to create new connections in a relaxed fun atmosphere.
Upon entering, our guests will receive a name tag color coded by personality type which allows for easy navigation throughout the event.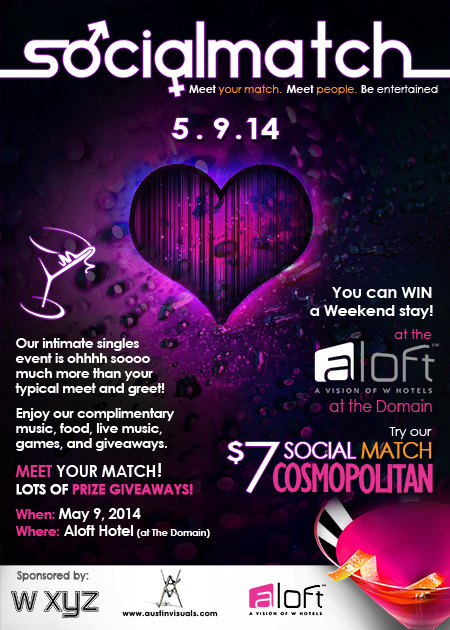 Featuring:

- Fun icebreakers to stimulate conversation as you walk in 
- Complementary Hors d'oeuvres and tastings provided. 
- Live Music! Including Corrina Rachel's Jazz Band. 
- Giveaways! Including a Raffle for a Weekend stay at the Aloft Hotel ! 
- Special $7 Match Cosmopolitans!! 

Dress Attire:  
What should I wear? What would you wear if you were about to meet your match for the first time? Our suggestion is simple.... Dressy Casual. Be you. Be stylish.  

About the Live Music: 

Enjoy Corrina's unique blend of your favorite standards and her own sultry originals.  Corrina's repertoire spans the early 1920s through more modern jazz and funk styles, so there is something to please every musical palette.  She also sings classic Bossa Nova in the original Portuguese lyrics! 
 


Our Sponsors: 

www.aloftaustinatthedomain.com : A vision of the W Hotels serving Austin, TX. 
www.AustinVisuals.com : A 3D Animation Studio in Austin, TX creating 3D Animation, graphics, and advertising graphics for businesses globally.