Hi Everyone!
It's my Birthday June 27th. Since it's a Friday Night, I thought I'd throw a FREE pubcrawl to help me celebrate my birthday! What better way to celebrate your birthday than than bouncing from bar to bar having fun and doing crazy stunts along the way with great people that love beer. 
To Attend ---> CLICK HERE to RSVP and get your Ticket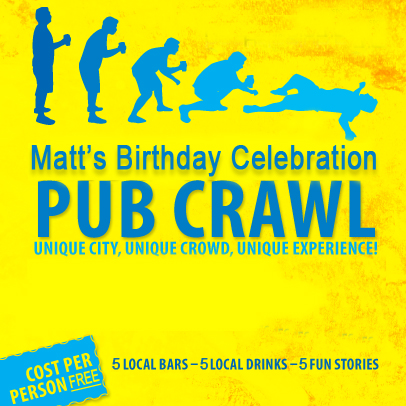 I'm also inviting some of my closest friends to join in the fun. I've had 100's of people out on my pubcrawls in the past. So for this pubcrawl I'm limiting this pubcrawl to 75 people. You can invite your friends but you'll have to get them to sign up individually to get their own spot. ONLY the people that are on this list will be able to travel with us. Sorry no exceptions, so Sign up Early to get your spot! We will be out of spots fast! Anyone that gets a spot to come onto this pubcrawl with us gets a special treat as well. You'll find out when you arrive what it is. I know how to have fun with my birthday parties.

See you Friday 7pm on Rainey! 
Game:
As in typical Matt's Birthday Style you WILL have to do something crazy and uncomfortable. You will find out what it is the day before the event. Don't worry, everyone will be doing it. If you don't want to participate, please give up your ticket in advance. See you there!
We will be going to 5 bars on Rainey St. We will meet up on Rainey St. at 7pm. 7:15pm we start the pubcrawl officially. The bar line up will be emailed to you 24 hours in advance. Feel free to buy the birthday guy a shot when you see him.

**Again, the ONLY way you will be able to attend this pubcrawl is if you get a ticket through eventbrite. You will get the address where everyone is meeting up through eventbrite if you get a ticket to attend. Only RSVP'ing on meetup does not secure your spot at this event.
Dress:
It's summer time, it's going to be hot, so wear whatever you want. Choose to wear (1) item that you feel says 'Happy Birthday' It can be a kazoo in your pocket, pin, or anything.

Why have a list?

It allows me to keep communication with everyone organized in one place. There is nothing quite like getting 20-30 text messages and emails all at once. Also keeping a list allows me to ensure a balanced male/female ratio at this event and make sure we don't have too many people joining us. 
- Matt Winters