New Podcast Available!
This week Freethought Radio hosts Annie Laurie Gaylor and Dan Barker will parse the godly tenor of Glenn Beck's D.C. rally, discuss other news developments and interview an 82-year-old Wisconsin farmer about why he dreamed up and paid for FFRF's billboard, recently defaced in Watertown, Wis., saying "Enjoy Life Now: There Is No Afterlife." The show will also air comedian Steve Martin's "atheist hymn."
Don't see an audio player below?
Listen here
(direct download).
Radio from the Secular Point of View
Freethought Radio, from the secular point of view, broadcasts weekly and is hosted by Dan Barker and Annie Laurie Gaylor, co-presidents of the Freedom From Religion Foundation. The show offers programming for nonreligious listeners, as well as countering the religious-right domination of our public airwaves. Freethought Radio features a regular "Theocracy Alert," Dan's "Pagan Pulpit," "Freethinkers Almanac," music and interviews with authors and activists. Check out Freethought Radio's illustrious list of
guests
, including Richard Dawkins, Julia Sweeney, Janeane Garafalo, Ron Reagan, Betty Rollins, Christopher Hitchens, Steven Pinker, Ursula K. Le Guin and so many other fascinating freethinkers, newsmakers and thinkers.
Broadcast
Saturdays, 11 am - noon Central, on Progressive Talk
The Mic 92.1
, Madison, Wis.
OTHER BROADCASTING STATIONS
Ada/Grand Rapids, MI: WPRR AM 1680 and 95.3 FM Public Reality Radio,
Airs Weds 3 am, 9 am, & 7 pm
Anchorage: KUDO AM 1080, Sat 9-10 am, Sun 11 am-noon
Atlanta: Green AM 1640, 1 pm, repeats Sun. 3 pm
Monterey-Salinas, CA: KRXA AM 540, Sun. 7 pm
Streaming
Freethought Radio streams at
The Mic 92.1
, Madison, Wis., every Saturday from 11 a.m. - Noon Central.
Podcast
Podcasts are usually available
here
Mondays by midmorning (except on national holidays, when they go up on Tuesday).
Or listen to Freethought Radio on iTunes. (Check back here for our weekly podcasts.)
Archives
Listen to podcasts dating to 2006 (arranged by year)
here
.
About the Show and Incidental Music
Announcer ("voice deity") is Buzz Kemper, of Audio for the Arts, Madison, Wis., a member of the Foundation. Engineer/producer is Brian Turany, also a member of the Foundation. Incidental music is performed on the piano and/or arranged by host Dan Barker. Listen carefully to the "intro" and "outro" music to pick out Dan's arrangements of strains from the ballad "Annie Laurie," from Dan's "Friendly Neighborhood Atheist," "Salt Lake City Blues," Gershwin's "It Ain't Necessarily So," Irving Berlin's "Pack Up Your Sins and Go to the Devil in Hades," and the famous 16th century freethought ballad, "Die Gedanken Sind Frei" ("Thoughts Are Free"). Other incidental music was created especially for the show by Dan. You can listen to yourself! Hundreds of freethought members have recorded greetings to air on Freethought Radio at FFRF conventions.
Get Freethought Radio on Your Local Station!
Ask your local radio station to carry Freethought Radio, which is available without cost. Counter the 24/7 domination of our public airwaves by religious proselytizers with some rational radio and blasphemous broadcasting. Phone the Foundation at 608/[masked] if you have questions.
Biographies
E-mail the Show
E-mail a question or comment to Freethought Radio.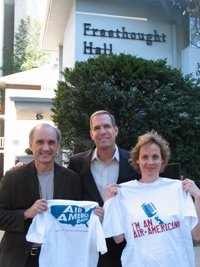 Air America History
Freethought Radio's partnership with Air America, which made the broadcast available to all of its affiliates, ended on Jan. 25, 2010, with the demise of Air America Radio. Freethought Radio enjoyed being part of Air America while it lasted and working with various Air America talents. (See
News Release
.) (See broadcasting stations above.) Podcasts will also continue.
Check this website by Monday morning to listen to the previous weekend's broadcast.
Back to top