THIS EVENT WILL BE HUGE & POSTED ON OTHER MEETUPS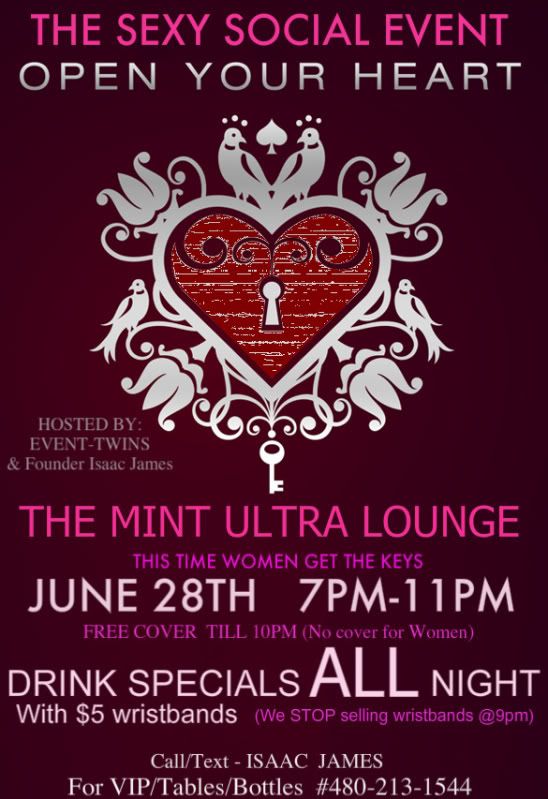 YOU ARE WELCOME TO JOIN US AT OUR *SIGNATURE EVENT*
OPEN YOUR HEART
★FUN SOCIAL EVENT★
HERE'S HOW IT ALL WORKS:
The "OPEN YOUR HEART" is totally FREE! Women and men will receive unlock-able devices around their neck. The challenge is to walk about the venue seeing if you can fine the match that will unlock your device. The goal is to meet someone while doing this. Of course every time you unlock a device you will receive a chance to win "FREE DRINKS". This event is a great way to meet and mingle, get to know someone new, and make new friends or even find your perfect match ;-) (THE LOCKS AND ALL THE KEYS WILL BE COLLECTED AT 10:30PM)
★VERY IMPORTANT INFO ABOUT THIS EVENT★
DATE: June 28th, 2013
TIME: 7pm-11pm (PLEASE SHOW UP ON TIME)
WHERE:7373 E Camelback Rd
Scottsdale, AZ 85251 (In OldTown Scottsdale)
COVER: FREE Till 10pm if you say ♛EVENT•TWINS♛
(After 10pm Cover is $10 BUT WOMEN ARE ALWAYS FREE)
Dress Code: Strongly Enforced, For Men Collard Shirts or button-ups, Jeans are ok. (If you show up and are not in dres code you will not be able to attend this event. The Mint is the most upscale Ultra Lounge in OldTown Scottsdale AZ.)

*DRINK SPECIALS*
*ALL NIGHT!*
With the puchase of a wristband
wristbands are... $5.00
DRINK SPECIALS ARE:
$6 WELLS
$6 HOUSE WINE
$6 CHAMPAGNE
$5 BEERS
*PLEASE DON'T DRINK & DRIVE*
Indigo Hotel Scottsdale
4415 North Civic Center Plaza Scottsdale, AZ 85251
$79 A Night. Phone: (480)[masked]
Just say your with "EVENT-TWINS" to get the Discount.
If you have any questions please call or text
Isaac James @[masked]
OR
Eric Shane @[masked]
*•*•*•*•*•*•*•*•*•*•*•*•*•*•*•*•*•*•*•*
***BEFORE MY EVENT!***
Class Is Back In Session!

"How to Approach & Socialize Seminar"

****For "MAINLY" Men!***
(Women may attend this class if they wish too)

TIME: 5:15pm-6:55pm

COVER: $10 to attend this Amazing Seminar.

DISCLAIMER: I do NOT make money off these POF events & I am in NO way getting paid for teaching this class!!! The $10 cover is because It's the cost to book in the club.

FYI: This class is NOT about teaching guys how to get laid or lie to women!