First 50 ladies FREE (before 10 pm) & $5 adv tickets below:
http://bhangrapdx2013.eventbrite.com/#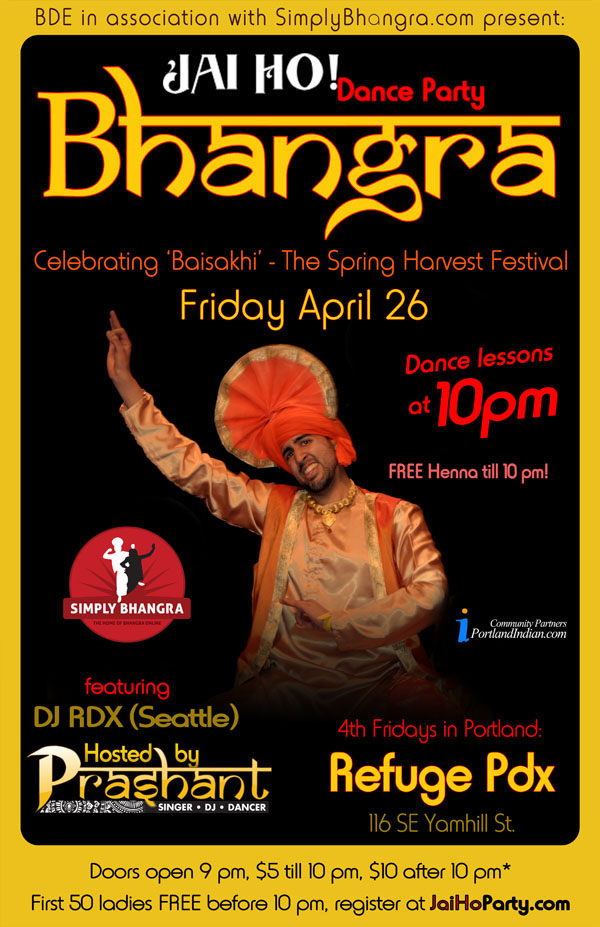 Bollywood Dreams Entertainment Presents:
______________________
★ Jai Ho! Dance Party ★
★ BHANGRA ★

Celebrate Spring Festival - Baisakhi
Dance into Spring with the infectious Bhangra beat on this very auspiscious day. Every year on April 13 Spring Harvest is celebrated all over India, on this very day in 1699, Khalsa was established, which is the culture from which Bhangra originates!

Jai Ho! Dance Party repeats every third Saturday at Chop Suey in Seattle with a new flavor (theme) each month.

______________________
★ Experience INDIA at Jai Ho! ★

Signature Chaitini (Chai Martini Cocktail), FREE Henna, Bhangra Dance Lessons & Performance, & LIVE Dholi make Jai Ho! an experience of Indian culture like none other while its backbone is a sweaty dance party!


______________________
HOSTED BY
Celebrated Bollywood Entertainer:
★Prashant – Singer, Dancer, DJ ★
FEATURING DJs:
★ BRETT BELL★
★ RDX (SEATTLE)★
SPECIAL GUESTS
★ GARY ★

(Live DHOL Player) from Seattle
★ MR. CHATMAN ★

Dancehall-Bhangra singer of Non Stop Bhangra fame

FREE HENNA BY:
White Heart Henna
_________________________________
Friday April 26th
REFUGE PDX

116 SE Yamhill St, Portland OR

_________________________________
★ BHANGRA SPECIALS ★
Dress to impress in Indian attire

First 50 ladies FREE (print ticket & enter before 10 pm)

FREE Henna till 10 pm


$5 entry at the door ONLY, till 10 pm!

Dance Lesson at 10 pm

Jai Ho! special drink Chaitini (Chai Martini)
★ THE MUSIC ★

Bhangra is a lively form of folk music and dance that originates from the North Indian state of Punjab. Traditionally performed to celebrate the coming of harvest, the bass-heavy, infectious beat of Bhangra is captivating dance lovers across the globe.

DJs BRETT BELL & PRASHANT will mix Punjabi Bollywood with bass heavy Bhangra in their signature style to make you bounce your way to Punjab!

_________________________________________________
★ The Details ★
Doors at 8 pm with just $5 entry till 10 pm

21+ w/ proper ID – Party late till 1:45 am!

$5 before 10 pm, $10 before 11 pm

Price subject to increase at the door after 11 pm
First 50 ladies FREE before 10 pm, register at: www.JaiHoParty.com
_________________________________
★Community Partners ★
Bringing the community together!
Apna Bazaar
Portland's favorite all Indian grocery store

_________________________________
★ Jai Ho! Dance Party ★
Come teleport to the dream city, Mumbai, home to the alluring Bollywood film industry at the Jai Ho! Dance Party.
Third Saturdays in Seattle & last Saturdays in Portland, with a new flavor every month, Jai Ho! (victory to you) is a monthly dance party featuring authentic and crossover Indian Dance Music (Bollywood & Bhangra).
Dance lessons, dance performances and LIVE singing – make Jai Ho! an experience where anyone and everyone joins the fun and dances, regardless of age, culture or nationality.
Jai Ho! is viewed by many as an experience beyond a dance party, the charismatic entertainer
Prashant performs for the audience and even leads the crowd in dance routines, all of this while he is spinning electronic Indian dance music seamlessly.
It's as spectacular as a Bollywood Film itself.
_________________________________________________
★ Bollywood Dreams Entertainment (LLC) ★
Founded in February 2010 to enrich NW's Musical Experience by producing authentic Indian Entertainment events!
Mumbai born President Prashant Kakad (Cornell Alum, and former Intel Engineer) is the multi-talented face of BDE. A Singer, DJ, and Dance Instructor, his mission is to enrich the U.S. musical experience by presenting the best talent, straight from India.
BDE hosts the popular Jai Ho! Dance Parties in Portland, OR & Seattle, WA!
_________________________________________________
Like Prashant : http://www.Facebook.com/dreamprashant
Join the Jai Ho! Dance Party : http://www.Facebook.com/jaihoparty
Keep in touch with Bollywood in Seattle https://www.facebook.com/groups/bollywoodbliss/
& follow us on Twitter: http://www.Twitter.com/DreamPrashant