First time to a Jai Ho! Party? Watch:
After 3+ years of NON-STOP Bollywood dancing every month at Chop Suey in Seattle, we are taking a break APRIL 2014 onwards. Please join us this 
 this Saturday Feb 15 – come dressed in your BOLLYWOOD DISCO ATTIRE! 
Next month, Sat. March 15 will be the FINAL PARTY
 for Spring/Summer 2014 – Holi Hai: Color Festival Party at Nectar Lounge! THANK YOU for all the amazing times Seattle Friends. Let's dance it up last 2 times! 
Get your tickets now: 
1st 50 ladies FREE till 10 pm, register 
$5 adv. tickets (save up to $10) at 
 &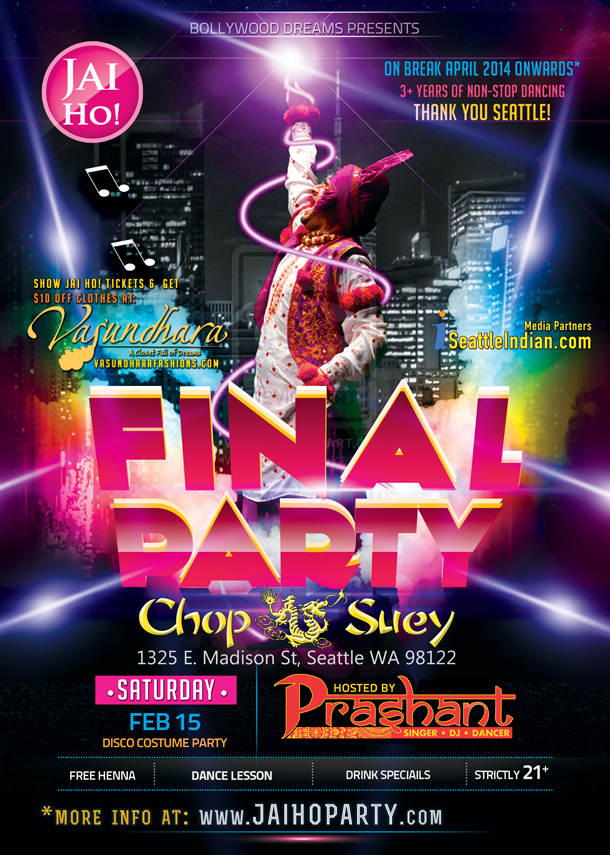 §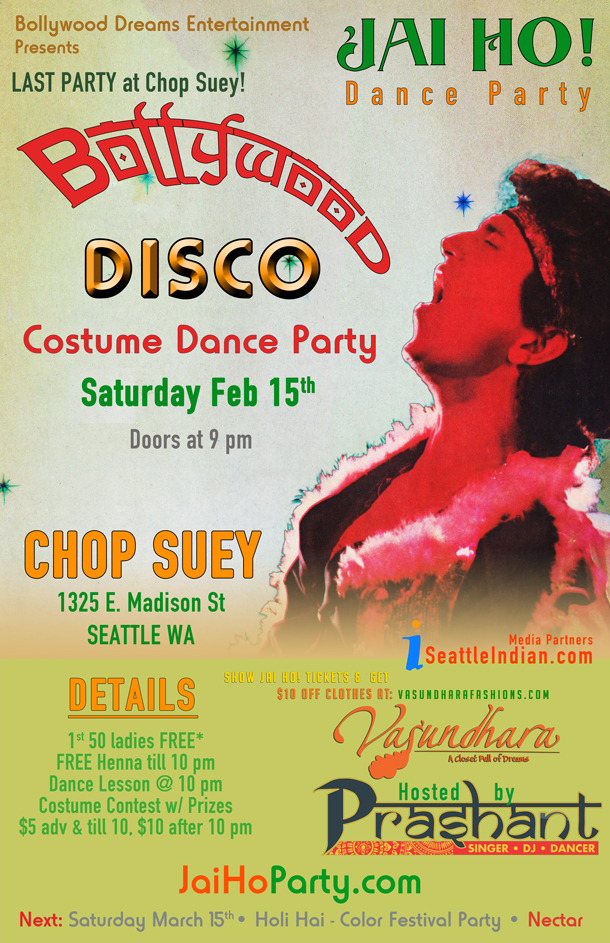 Jai Ho! Dance Party
FINAL BOLLYWOOD PARTY @ CHOP SUEY
Bollywood Disco Costume Dance Party.
Hosted By Prashant – Singer, Dancer, DJ
$5 adv & at door till 10 pm/ $10 after 10 pm // 9pm doors // 21+
TICKETS: http://JaiHoParty.com/
DETAILS:
• FREE Henna by Natasha till 10 pm
• Drink Specials, 
• Professional Photography
• Fun & interactive Dance Lesson w/ Prashant @ 10 pm
• Dance non-stop, all night long.
NEWS:
Prashant & Jai Ho! Dance Troupe spreading Bollywood in Portland – 
 (Video)Prashant is creating a new kind of club culture, where the east meets the west – 
(Video)Vanguard for emerging cultural movement – 
Making Bhangra & Bollywood big in Portland - 
Bringing Bollywood to Portland – 
COSTUME PARTNER:
With help from Vasundhara Fasions, we are making it easy for you to get your Bollywood look on! 
Buy Jai Ho! tickets 
Head over to 
 with Jai Ho! ticket receipt & get $5 OFF, spend $50+ to get $10 OFF!Simply speaking, $5 Jai Ho! advance ticket offers you at least $5 off at Vasundhara!
MEDIA PARTNER: