May 2, 2014 · 7:30 PM

This location is shown only to members
MANJUSHRI BIRTHDAY CELEBRATION
Friday May 2nd  7:30 -9:30 pm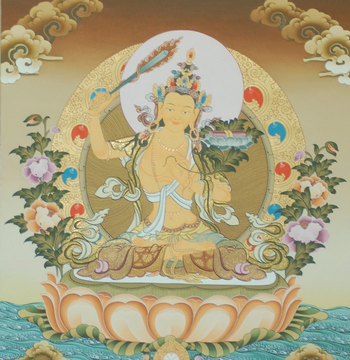 Manjushri is the Buddha of wisdom - the embodiment of the omniscient wisdom of all enlightened beings. 
His Sanskrit name means "He Who Is Noble and Gentle".
His left hand is in the gesture of teaching Dharma and holds the stem of a lotus flower that supports the Perfection of Wisdom Sutra. The flaming sword in his right hand symbolizes the power of wisdom to cut through ignorance, the root of all suffering. His youthfulness indicates that wisdom arises from him naturally and effortlessly. By relying upon Buddha Manjushri , our ignorance is lessened and own wisdom naturally increases. 
Join us for an evening of Celebration, Mantra and Prayer as we gather together and perform a special practice to connect our minds with Lama Namnang Mingjo Dorje Rinpoche and our lineage, increase our merits and virtues and receive the special blessings of Manjushri.