Business Rocks! Network differently.

On The Last Tuesday of Every Month
(except August and December)

7:00 PM - 10:00 PM (+ optional beer networking till late)
BluJaz Cafe, 11 Bali Lane, Singapore[masked]

It's like TED(with beer).
Business Rocks is a chilled out event for business people to get drunk together network in a relaxed non-businessey environment.
We drink beer (and other stuff), we mingle and we have great conversations.
It's an event with a focus on fun, authenticity and real people sharing real stories.

Book now to reserve your place!

What to expect at Business Rocks?
... expect the unexpected. PLUS:
Friendly un-networking in a relaxed environment, leave your sales hat at the door - just relax, have a beer, meet and mingle. And feel free to talk about work all night long - or not at all.

An awesome guest speaker sharing a short presentation relevant to business and entrepreneurship in a fun, interesting and informative format. Business Rocks is not about being THE BEST speaker. It's about real people sharing real stories about the things that matter to them.

Then more mingling and more beer. Till late.
But don't take my word for it... check out this super-duper video promo by my friend Shawn Khoong!


And by the way ... paying in advance helps me to manage numbers and registration more efficiently and makes my job A LOT easier.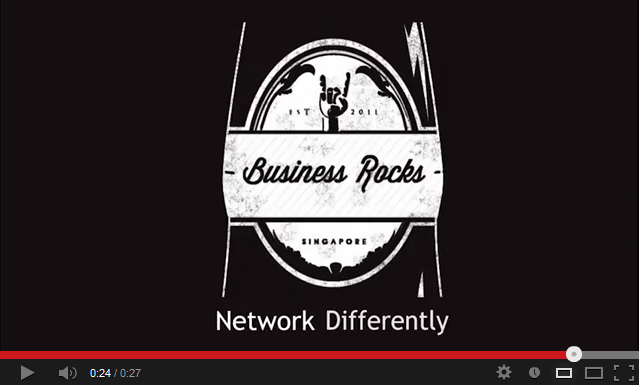 For those who prefer to pay at the door I will be charging you $5 extra to buy myself a beer. Is that fair enough?
Book now to reserve your place!
Business Rocks is all about music, beer and business opportunities, so if you love business and entrepreneurship, come and share your success, failures, rants and raves – anything goes as long as it is interesting and relevant!
Take a break out of the hectic work week to re-energise and meet some awesome, interesting people.

The small print: Even if you do not drink, you still need to pay the registration fee - I like to make sure our venues are happy to have us there!


Business Rocks! Network differently.
Join our Facebook Community!
Follow the Twitter BUZZ
#businessrocks