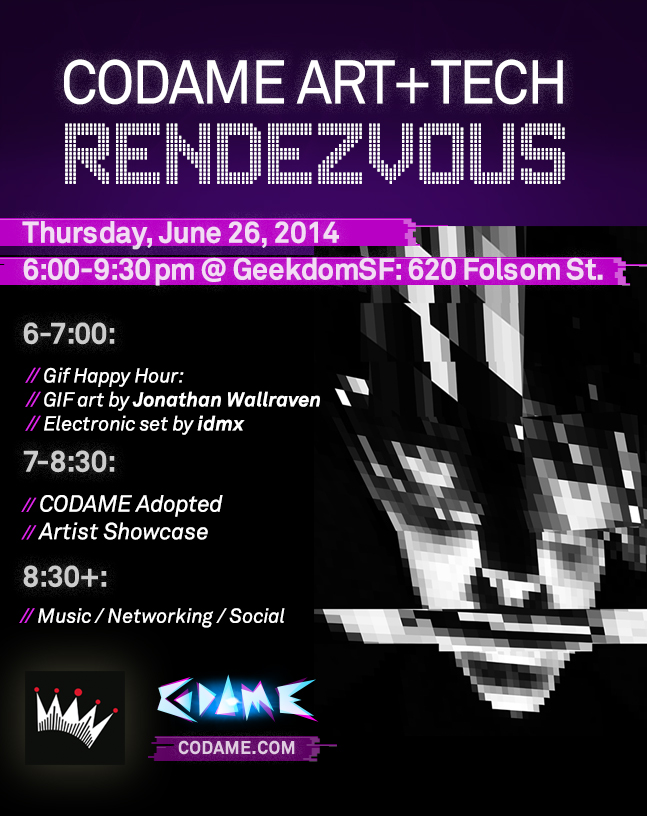 Art+Tech Rendezvous is CODAME's monthly series curated by CODAME staff, happening @GeekdomSF. The series focuses on contemporary art and tech artists, electro-music and performance, mixing and networking, electronic improvisation, artistic inspiration, and play time.
Limited quantity available, so reserve yours before they're gone! RSVP on artrendezvous.eventbrite.com

SCHEDULE
6-7:00: GIF Happy Hour
We'll kick off the evening featuring GIF art by Jonathan Wallraven and the Electronic performance by idmx, and an opportunity to play with gifSlap!
7-8:30: Art+Tech enlightening talks from CODAME Adopted Artists
Learn and meet the team behind three exceptional projects adopted by organizations supporting Art+Tech
"Ecstatic Epiphany" - Micah Elizabeth Scott (adopted by CounterPULSE)"
GIF Video Booth" - Jonathan Wallraven (adopted by Rackspace)
"Ardent Mobile Cloud Platform"  - Ian Baker (adopted by California Academy of Science)
8:30+: Networking / Social / Music and more play time w/ Spectrum Electric DJ set
Do not forget to RSVP on artrendezvous.eventbrite.com