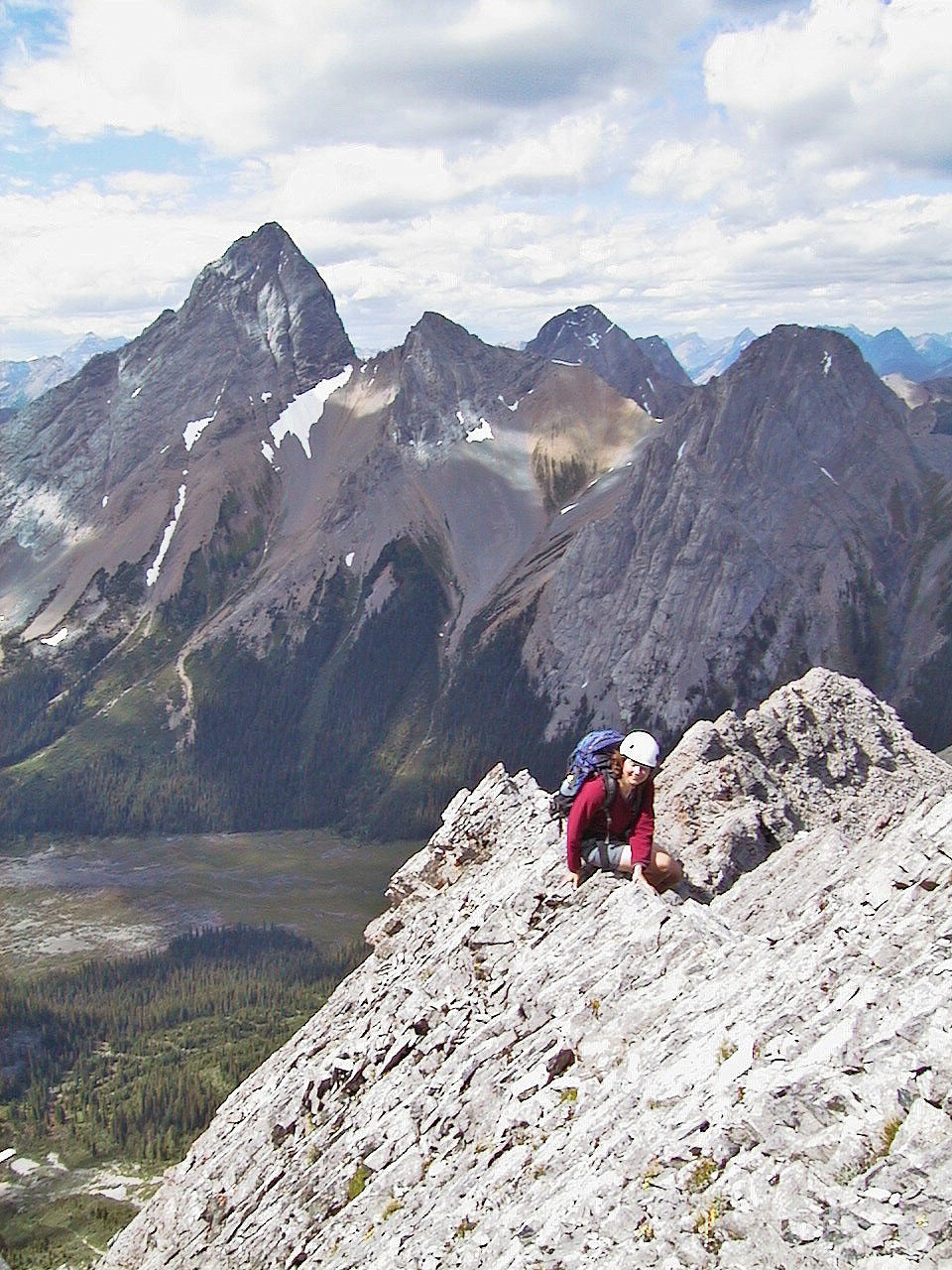 Photo courtesy of Bob Spirko
***NOTE MEETING TIME NOW IS 6:30AM SATURDAY***
***PLAN ON BIKING IN/OUT***
From Dowclimbing.com ...
Mount Burstall resides in the middle of the Spray Mountain Range just north of Mount Murray in Kananaskis Provincial Park along with such notables as Shark Mountain and The Fist hemmed in to the west by the 11,172' Mount Sir Douglas on the Continental Divide. Mount Burstall was officially named (as most mountains in the area) after a WWI Lt. General in 1918. It was first ascended in 1972 by Brown, Carruthers, Cobb, Seyforth and Schiesser.
The only published route up Mount Burstall is the difficult rated scramble. It is one of the shortest routes in Kananaskis and one of the more pleasant in terms of footing. Although rated difficult by one of the local guidebooks, it definitely is on the easier side of difficult if not a more moderate climb. I took the summit on a stormy fall day, but was still afforded dramatic views into the French and Robertson glaciers. On a clear day, the views would be similar to Mount Murray and therefore include the big three in Kananaskis, Mount Sir Douglas, Mount Joffre and Mount Assiniboine. To the north are views of Mount Engadine and Mount Chester.
Relevant website links:
http://bobspirko.ca/SmithDorrien/MtBurstall/Burstall.html
http://dowclimbing.com/Burstall.html
http://www.explor8ion.com/vern/scrambles/burstall/burstall.html
http://www.soistheman.com/diary/page.php?id=mt-burstall&page=1
Required gear:
- bike
- helmet (good idea since we will be a larger group)
- harness + belay device and carabiner if you think you will be nervous on exposed sections (I will bring a half length rope)
The plan is to scramble it free but I will bring a light rope for the exposed section(s) in case someone is spooked. If you think you might be you might be spooked you may want to bring a harness. (I have an extra harness and helmet for someone).
Will screen potential participants from the waitlist.
Note I will need to be back in Calgary by 7pm at the absolute latest...that is why the early start.