Show Your CGSA Pride
`Make It Easier For New Members To Find Us At Events`
Click On Our Magnet :)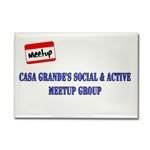 CGSA has an apparel page! T shirts, hats, pins...
This link and store will remain open. If there is a CGSA that would like to take over this store, continue with designs, add any new items, etc..etc...let me know and I will gladly pass on the sign on info to you.
Casa Grande's Social & Active has an alternative to having to carry a darn sign at meetups!
Bradford was the driving force behind this back in 2008. We went through so many fonts and color schemes. There is a feminine font and a blocky font. Kudos to Brad, thank you so much! Sherri was the first guinea pig to order something and she loved the items. Order at will CGSA's, the items are good quality and the logos look nice ;).
There is NO MARKUP on these items. This is just a fun addition to the group.
So head on over to the official Casa Grande's Social & Active Meetup Group CafePress site and check out the fun new stuff. Hopefully, a handful of us will buy a shirt or two and start wearing them to meetups :).
Here's the link again:
Cool CGSA Stuff :)
PLEASE USE THE BACK BUTTON TO RETURN TO THE 'ABOUT US' PAGE