Puerto Rican Soprano Ana María Martínez, will sing the title role in Lyric's production of Rusalka (also played Mimi in La Boheme, our opera Meetup event last year)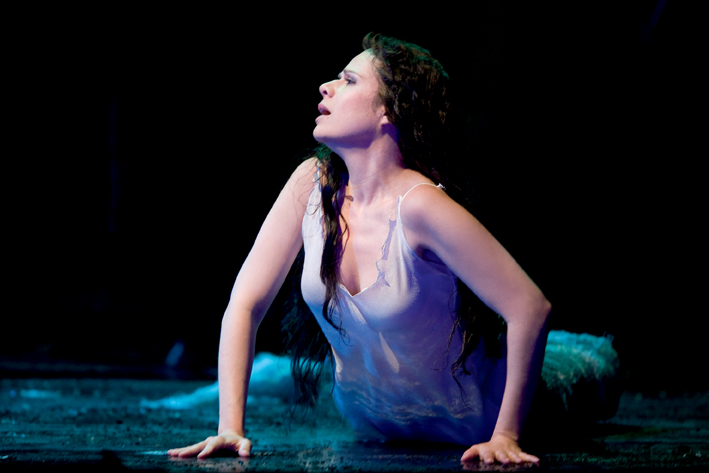 http://www.lyricopera.org/rusalka/ 
Rusalka by Antonín Dvorák, In Czech with projected English texts.
Dvořák's Rusalka is a new production and a Lyric Opera premiere! Approximate running time: 3h 30m
You may know Dvořák's rousing "New World Symphony"—but here he's at his romantic best as dark swirling under-currents blend seamlessly with entrancing folk melodies.
Rusalka, a water sprite, falls in love with a human prince and strikes an impossible bargain to enter his world. A witch grants her mortality so they can be married. But this is no Disney mermaid. Dark consequences flood Dvorák's moonlit fairy tale, along with music of acute longing, hope and disillusionment. Rusalka's "Song to the Moon" might just break your heart. With memorable Lyric productions such as Elektra, Manon, Julius Caesar and Billy Budd under his belt, you can expect another winner from director Sir David McVicar. 
You may still be able to join us for this glamorous evening at a great price! Pay your $68 for main floor tickets with Enjoy Life Chicago group here: https://www.wepay.com/events/rusalka-opera-in-full If issues arise closer to the date and you cannot attend, please call or text Robin T ASAP[masked] and we will try to help you sell your ticket so you can be refunded. 


Rusalka 
Ana María Martínez

Prince 
Brandon Jovanovich

Vodnik 
Eric Owens

2nd Wood Nymph 
J'nai Bridges† (Meetup member!)
Weeknights are more casual, you can come straight from work and have dinner at the nearby Cosi cafe(Washington & Franklin). No need to wear a velvet gown or tux(unless you want to!) Just look nice- no jeans or gym shoes- and you will be fine. A cocktail dress or suit is a good look too. 
We will meet for an optional light dinner & distribute tickets at Cosi cafe 230 W. Washington @ Franklin(1 block from the opera house) 5:00p-6:15p. Look for Meetup signs on the table and host Robin T with nametag[masked]-7555. Parking across the street at 217 W. Washington is $14 after 3p. If you cannot make it to Cosi by 6:15p, your ticket will be left at Will Call under your name at 6:25p. There is a FREE pre-opera lecture 6:30p-7p to help enhance your appreciation of the show. PERFORMANCE BEGINS AT 7:30P SHARP! IF YOU ARE LATE YOU WILL BE FORCED TO STAND IN THE LOBBY UNTIL INTERMISSION. NO EXCEPTIONS.
If you are making your own dinner plans before the opera rather than coming to Cosi, be aware that a big fancy dinner with heavy food and wine or cocktails is not a good idea. The theater is warm and dark, with relaxing music, and it is VERY easy to fall asleep.
We have had to elbow members at previous operas to wake them up. Avoid alcohol, and have coffee or coke and a chocolate bar after the pre-opera lecture, right before the show(there is a CVS drugstore near Cosi for candy). Also get plenty of rest the night before. Let's enjoy the evening to the fullest!