August 24, 2013 · 5:00 PM

This location is shown only to members
⏩UPDATE: Deal vouchers - SOLD OUT http://goo.gl/LPfxN

Indian-inspired Holi festival in Grant Park celebrates the summer with food, drinks, and a paint-flinging free-for-all! Buy your ticket  and join the festivities!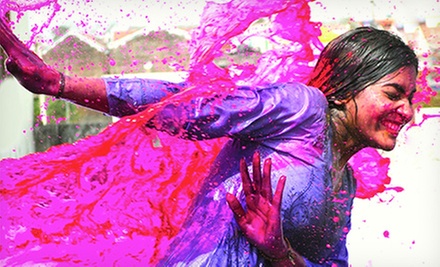 Celebrating Summer 2013 Grant Park transforms into a colorful festival of music, beer, food, and paint. Held in multiple cities, Celebrating Summer revels in seasonal traditions from all over the world. The party's main event is a carefree paint fight in the spirit of India's Holi festival, so attendees should dress in mess-appropriate clothing or framed canvases. Available food includes Jamaican jerk chicken, escabeche fish, and rice & peas.

☮ how to join the fun
1. READ the details and RSVP YES, include any guest/s.

2. BUY 1/2 off deal > CLICK HERE TO BUY <<br />
3. LOOKfor Katrena (see pic) @ entrance @ 5 pm.
Her phone number will be emailed to those who sign up.


Note: Make sure that you have a clear profile photo posted to your profile, or snap one now and upload it to this event, so that we can easily find one another.

☮ COST
normal cost $ 40
1/2 OFF DEAL $20 per person
Meetup Fee: None

☮ KNOW BEFORE YOU GO
PUBLIC EVENT hosted by Chatterbox Events

UPDATE YOUR RSVP if plans change

No-Show Policy



☮ HOW TO GET THERE
CARPOOL

Share Ga$/Parking and make new friends. In the comment section below, post your starting point and if driver or passenger. Drivers - post how many you can take. Then contact one another to work out the details.
PARKING

www.spothero.com




Let's Celebrate Summer of 2013!