Grab this > 1/2 OFF DEAL <, bring a friend or meet up with other members attending to be a part of America's Baking and Sweets Show. Post in the comment section if you plan to attend Saturday or Sunday, to meet up with others attending. Ace of Cakes' Duff Goldman and pastry chef Gale Gand headline three days of sweets, classes, and demos; a gourmet grand tour of the most delectable and hottest trends in the world of baking and beyond. The theme this year is "Alice in Wonderland" so join our showgirl ALICE in the magical world of baking and sweets and ...Explore. Discover. Shop.

✅ COST for ONE DAY PASS
Regular $30.GROUPON 1/2 off $15 for 2 ($7.50 each)

Don't have a guest? No worries! Post a comment at the bottom of this page, to offer your 1/2 to another member. Work out payment between yourselves. Enjoy!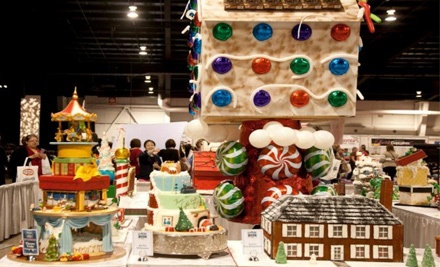 ✅  HOW TO JOIN THE FUN
✔️  R.S.V.P. Yes, include any guest/s. 

✔️  BUY 1/2 GROUPON >> CLICK HERE <<

✔️  POST A COMMENT below to exchange contact info to meet up with other members, who are attending.
✔️ WHERE TO GO Get Directions 
    Renaissance Schaumburg Convention Center
    1551 N. Thoreau Dr. Schaumburg, Illinois 60173

✔️ CARPOOL Make friends and $ave ga$! Comment below; your starting point, if driver or passenger, and how many seats. Make sure to confirm plans.

✔️ ENJOY!

Celebrities Attending: Ace of Cakes' Duff Goldman and Sweet Dreams' Gale Gand headline. Other notable confectioners in attendance: Geraldine Randlesome, the creator of the "Floating Collar" technique, and Brian Emmett, winner of CBS's The American Baking
Competition. Classes: For an additional fee, guests can partake in demos on topics such as wedding-cake design and hands-on classes on topics such as marzipan molding.

✅ FYI DETAILS 
When: November 15–17
General admission
Door time: Friday at 11 a.m.; Saturday and Sunday at 10 a.m.
Ticket values include all fees.
Children 12 and under are admitted free.
Click here to view a schedule of demonstrations.
Click here to view a schedule of hands-on classes. 

Policies and Disclaimer that apply to all of our events.