MOONLIGHT SNOWTUBING!
The excitement builds as we drive to the nearby Villa Olivia ski area(1401 W Lake St, Bartlett IL, 45 min from downtown) for a thrilling snowtubing adventure under the stars 5p-8p, $17. https://www.wepay.com/events/snowtubing-reserved-126
Tickets must be paid for by 2/21 and are limited to 3 per person, in order to allow as many adult meetup members to attend as possible. It is just not fair to allow children to take up the majority of the tickets at what is meant to be an adult social function. Perhaps you can arrange to bring your family snowtubing on your own another time. Thank you for understanding. If issues arise and you cannot attend, please call or text host Robin T ASAP and we will try to sell your ticket to a member on the Waitlist so you can be refunded.
Fee includes two hours of snow tubing and the use of the snow tube. If we don't get 15 people to pay in advance, we will have to purchase tickets in the Ski Lodge. Then snow tube tickets are sold first come first served, based on availability. Well-behaved children are permitted at this event. Kids age 6 and over get their own tube for $17.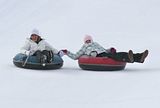 We will meet in the ski lodge to Meet & Greet and buy tickets at 5p. Look for host Robin T wearing a turquoise ski jacket, furry black headband, red plaid scarf & black ski pants with meetup sign and nametag[masked]-7555. It is best to wear snowpants with thermal long johns, jeans can get wet & cold. We will have silver beads to distinguish us from the crowd & help us find each other.
Post in the comments if you are driving from downtown and would like to be a carpool driver, approx 45 min drive. You will receive $10/person gas money. 
There is a bar and restaurant with fireplace in the ski lodge, we will enjoy a light dinner & drinks together after. We can also hang out there if there is a wait for the popular snowtubing activity. Please bring cash, to make settling the tab easier. 
The Villa Olivia Ski Café offers a multitude of casual menu items including: 
Hot Chocolate, Coffee, Sodas, Milk, Bottled Water & Gatorade
Pizza, Hamburgers, & Hot Dogs Soup & Chili French Fries, Nachos, & Chips 
Cookies & Donuts Salads, Fruit & Yogurt. Menu items are reasonably priced and are subject to change at any time.
For those who are 21 & older they have a full service bar serving coffee, sodas, beer, wine & cocktails.

✅ Can't Make It? Update your RSVP. No-Show Policy. 
 
Our Policies and Disclaimer that apply to all of our events.

Ready to have a fun time?! RSVP yes!

Cross posted with:
Chicagoland Fun Group
Enjoy Life Chicago!
Intercultural Meetup