Hi Folks,
Summer's here, and time for our annual outdoor event right?:) Well, this year we're checking out SFS's free outdoor concert at Dolores Park. I've done Stern Grove event for past few years, and thought maybe we can go for a change. So let's pack our picnic basket and go enjoy the afternoon of fabulous music, food and good company. How's that?:0 Please read details below: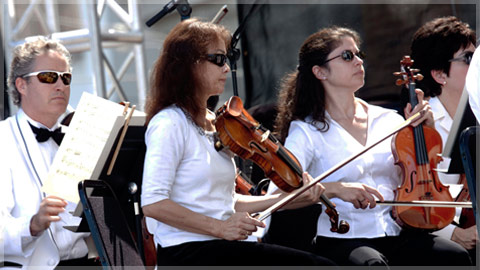 CONDUCTOR/PERFORMER
Teddy Abrams conductor,
San Francisco Symphony
PROGRAM
Beethoven  Egmont Overture
Tchaikovsky Waltz from The Sleeping Beauty
Tchaikovsky Romeo and Juliet Fantasy-Overture
Copland Fanfare for the Common Man
John Williams Overture The Cowboys
Copland Rodeo
TICKET: FREE admission!:)
--------------------------------------
*Event fee reminder:
This is NOT related to your tix purchase. So please buy tix using the link provided in the event posting if needed. Thanks!
$3 is due at the time of RSVP via PayPal (either you can use paypal linked through Meetup if you have done so OR paypal to my account directly at [masked])
For more info please read meetup fee & refund policy:http://www.meetup.com/Classical-Music-Friends-in-the-Bay-Area/pages/About_your_fee_and_refund_policy_%28revised%29
Thanks!
---------------------------------------
PICNIC INFO: Meet @ 12 noon in the corner of 18th St & Dolores St.
*What to bring: Lunch/food to share w/ the group (Yeah, it will be like a potluck!); Hat; Blanket if worried about being cold; Low-beach chair for your comfort. Please have a sunscreen on!