What are your favorite websites or blogs for vegan recipes?
I am loving Chloe's website (and cookbook). I made Pad Thai last night that was delicious.
http://chefchloe.com/...
­
Mmmm. I agree, Chloe's new book is quite good!
My all time favorite is
YumUniverse
!!Tons of delicious recipes to choose from! It's my go-to site when in search of a good recipe. She also has lots of gluten free recipes.
Try her Creamy Millet and Kale Salad (which has become a staple meal in our home)
http://www.yumuniverse.com/2010/07/07/creamy-millet-and-kale-salad/
­
or her "Cinnamon Toast" Amaranth Quinoa Protein Power Cereal
http://www.yumuniverse.com/2010/11/08/cinnamon-toast-amaranth-quinoa-protein-power-cereal/
­
or her Almond Chai Quinoa and Chia Cereal
http://www.yumuniverse.com/2012/05/07/almond-chai-quinoa-chia-breakfast-cereal/
­
I could go on and on
Here's the link to her website. It's a fun one to peruse.
http://www.yumuniverse.com/
­
Thanks Shannon and JL for the recommendations for vegan recipe websites. I will add them to my favorites! : ) There is too little time to make all these amazing recipes..lol.

http://www.theppk.com...
­
This is a great website!! It is home to the blog of Isa Chandra Moskowitz and a great forum that discusses vegan cookbooks, recipes, tips, etc.
The
No Meat Athlete
also has good recipes for energy bars, veggie burgers, soups, pasta, beans/lentils, sandwiches and smoothies....and you don't need to be an athlete to enjoy the benefits of his recipes
. I just made these energy bars the other day (packed full of quinoa). I subbed unrefined coconut oil for the vegetable oil, pure maple syrup for the agave, spelt flour for the whole wheat flour, and did 1/4 cup protein powder mixed with 1/4 cup almond meal. I followed his suggestion and added raw, shredded coconut and vegan chocolate chips. Yum!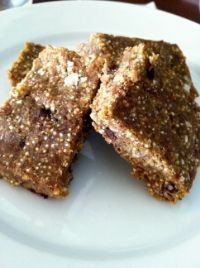 Edited by Shannon on Mar 3, 2013 4:57 PM
VegNews
also has good, free recipes.
Just saw this Kale Slaw with Barbecue Walnut Crumble that looks amazing:
http://vegnews.com/articles/page.do?pageId=5498&catId=10
­
Plus, I ran across this unique recipe for Quinoa Nachos:
http://vegnews.com/articles/page.do?pageId=4141&catId=11
­
http://vegnews.com/
(click on recipe link and start searching with key words)
Vegetarian Times
is also a good resource. I made this quinoa salad the other night. I omitted the pine nuts. It was very tasty: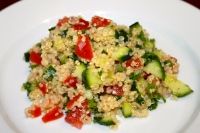 http://www.vegetariantimes.com/recipe/refreshing-quinoa-salad/
­
Edited by Shannon on Mar 4, 2013 9:27 PM