How about on Mondays we share a favorite recipe in honor of Meatless Monday?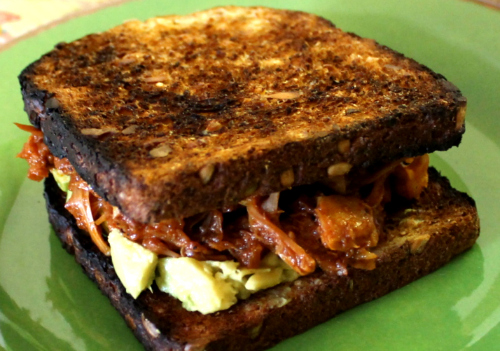 BBQ Pulled Jackfruit
Serves 4
Ingredients
1 tsp avocado oil (or extra virgin olive oil)
1/4 cup onion, minced
3 cloves garlic, minced
1 17-ounce can jackfruit, packed in water (NOT syrup)
1/2 teaspoon cayenne pepper
1/2 teaspoon yellow mustard seeds
1/2 teaspoon ground black pepper
1/2 teaspoon salt (use more or less, to taste)
3 tablespoons tomato paste
1 teaspoon apple cider vinegar
1 teaspoon vegan Worcestershire sauce
1/4 cup filtered water
1 tablespoon date syrup (or maple syrup)
Instructions
Pressure Cooker Instructions

Heat avocado oil on medium-high heat in an uncovered pressure cooker.
Saute onion and garlic for just a few minutes.
Add jackfruit and all remaining ingredients, stir, and lock the pressure cooker lid in place.
Bring to pressure.
Cook at pressure for 10 minutes.
Allow for a natural release.
Remove the pressure cooker lid, away from you.
Stir the jackfruit and sauce well and begin to use your spoon, or a fork, to pull pieces into shreds. This should be very easy to do with your spoon.
Suggested Slow Cooker Instructions (with my thanks to Ambur)
Mix all ingredients, except oil and jackfruit, in a bowl.
Add oil to the slow cooker, the add the jackfruit.
Pour the BBQ sauce over the jack fruit, coating it well.
Cover and slow cook on low for 3 – 4 hours.
NOTE: I have not tested these suggested slow cooker instructions – you may need to keep an eye on it to ensure there is enough liquid.
One can of jack fruit makes enough for four hearty sandwiches.