This is the trip into a heart of wintry and covered in snow Romania. We will be staying at the ice hotel, snowmobiling, sledding and visiting Drakula's Castle.  On the way back we will stop over in Bucharest and do a guided tour of the city. 
Price: Early bird discount is available if you pay in full before 15 December all you need to pay is £250. After this date but before 1 January 2014 you can still get a slightly discounted rate of £270. If you pay after the 1 January you will have to pay the full price of £290.  

Deposit of £100 (+payal fees) needs to be paid to secure your place. 
The reminder of the money needs to be paid into my bank account two weeks before the trip the latest. For instructions on how to make the payment and for the bank details please follow this link:http://www.meetup.com/Curious-Kat-Adventure-Club/pages/Bank_account/. Please note that if the payment is not received in time your name will be removed from the RSVP list to make space for others and your deposit will not be refunded. 
What's included: 1 night stay at the ice hotel, 2 nights stay in hostel style accommodation, sledding, snowmobiling, transfers, tour of Bucharest, cable car, tour of Drakula's Castle.

What's not included: flights, food, drinks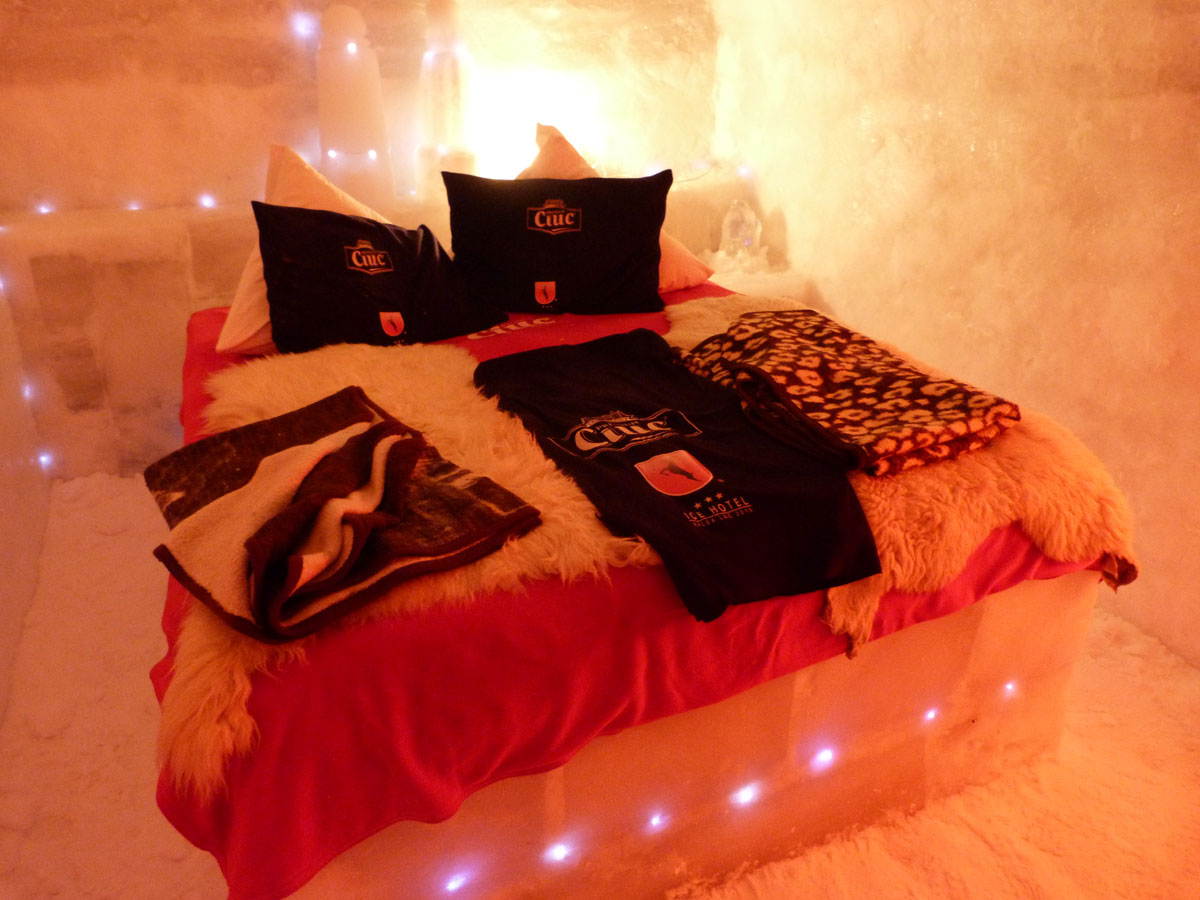 Flights: 
Thursday, 30 January
8:05 - 13:25 Easy Jet, London Gatwick to Bucharest, £40.49
Sunday 2 February
16:00 - 17:30 British Airways, Bucharest to London Heathrow, €66
Sleeping in the Hotel of Ice 
Each year the hotel's rooms are uniquely designed and original: adapted, made entirely of ice with differently themed rooms. This season "Carnival" is the hotel's theme.

Rooms are completely made of ice. The beds as well as the furniture are made of big blocs of ice. however it will not be a survival adventure, we will be given a soft mattress which is covered with sheets, blankets and fluffy animal fur. Before going to bed, every guest receives a warm sleeping bag because the room's temperature is between -2 and +2 degrees Celsius.
Ice Bar is a key element of the Hotel of Ice at Balea Lake. It represents the hotel's heart that heats and sets in motion the most frozen blood! 
Ice cocktails. Their speciality are cocktails which are not served in ordinary glasses but in glasses carved in ice. If you prefer to heat you up we recommand a hot wine punch or a delicious black tea. Whatever will be your choice, you will have an unforgettable experience worth telling your grandchildren.
Snowmobile
Free riding. With us in Romania everything is a little more original. They cannot offer groomed trails, but only pristine snowfields and a magnificent panorama. Of course there is a instruction for those who have no driving experience.
Sledding

While you are waiting for your turn on the snowmobile you will be able to try some sledding. 
Drakula's Castle
We invite you to experience the history, the myth, the intrigue and the magic of this wonderful place. We hope that you will carry the spirit that makes us love Bran Castle with you, always.
IMPORTANT: By signing up to this trip you have agreed to the following disclaimer: 

'While safety is our top priority and although we never take unnecessary risks, we do recognise that any outdoor activity/trip involves a danger of personal injury or death. Remember that you should be aware of and accept these risks as you are responsible for your own safety and you should not undertake anything beyond your abilities. It is also your responsibility to be correctly equipped for the weather and activity you have chosen to participate in.' The organiser only facilitates the group, and doesn't take responsibility for your safety during the trip.
INSURANCE:
You also confirm that you will be responsible for your own insurance and make sure that it is at an appropriate level for this trip and activities you will be participating in (if in doubt, check with your insurance provider). 
BAD WEATHER: 
There is a small risk that if the weather is very bad and it would make it dangerous to take the cable car we will not be able to get to the ice hotel (it is on top of the hill). This only happens occasionally. In this case an alternative accommodation will be provided. 
Plan of the trip (subject to change)
Thursday, 30 January
8:05 - 13:25 Easy Jet, London Gatwick to Bucharest, £40.49
13:30 - 14:30 going through customs
14:30 - 17:00 transfer to Bran
17:00 - 18:00 check in and refresh
18:00 - 20:00 dinner and drinks (not included)
Friday, 31 January
9am - 10:00 visiting Dracula's Castle
10:00  - 12:00 transfer to Balea Lac
12:00 - 13:00 lunch
13:00 - 14:00 cable car to the ice hotel
14:00 - 14:30 check in
14:30 - 15:30 sledding and snowmobiling
15:30 refreshing
18:00 Dinner at the ice castle (not included)
Saturday, 1 February
9:00 - 9:30 cable car down to Balea Lac
9:30 - 13:30 Balea Lac to Bucharest
13:30 - 14:00 check in
14:00 - 15:00 late lunch
15:30 - 17:30 tour of Bucharest
19:00 dinner
Sunday 2 February
Airport transfer
16:00 - 17:30 British Airways, Bucharest to London Heathrow, €66
Cancellations:
Please note that unless the trip is cancelled the payments are non-refundable as the costs need to be paid in advance. However you may be able to sell your place to your friends or other group members if you follow this procedure;http://www.meetup.com/Curious-Kat-Adventure-Club/pages/What_to_do_if_you_can_no_longer_attend_an_event/.