We have two options for this trip - a week and weekend option. this trip is just for the weekend, if you would like to book for the entire week, please click here. I am just finalising the details, so please RSVP to show your interest and you will be the first to know when it's all ready. 
We will be taking early morning flight on Friday, but if you really can not take a day off from work and would like to join us in the evening this can be arranged too, please just email me. 
Price: early Bird Price of £340 applies if you pay in full by the 15 January. If you pay between 16 January and 15 February you can still get the discounted price of £360. In February you will have to pay the full price of £380.
As we know, the meals in the resorts are super expensive, so with all your meals included, you get Olympic slopes at a smashing price! 

Deposit: of £150 (+paypal fees) needs to be paid on RSVP to secure your place. 
What's included: 2 nights accommodation, ski pas, full board (breakfast, lunch dinner), airport transfers. 
The only thing excluded will be ski rental - as they have various options available, the cheapest one is 34 Euro for 3 days, but if you are an advanced skier and want to choose better materials, you can also do this. Have a look here: http://www.location-ski-chamrousse.fr/. 
The reminder of the money needs to be paid into my bank account by 17th February the latest. For instructions on how to make the payment and for the bank details please follow this link:http://www.meetup.com/Curious-Kat-Adventure-Club/pages/Bank_account/. Please note that if the payment is not received in time your name will be removed from the RSVP list to make space for others and your deposit will not be refunded. 

IMPORTANT: By signing up to this trip you have agreed to the following disclaimer: 
'While safety is our top priority and although we never take unnecessary risks, we do recognise that any outdoor activity/trip involves a danger of personal injury or death. Remember that you should be aware of and accept these risks as you are responsible for your own safety and you should not undertake anything beyond your abilities. It is also your responsibility to be correctly equipped for the weather and activity you have chosen to participate in.' The organiser only facilitates the group, and doesn't take responsibility for your safety during the trip.
INSURANCE:
You also confirm that you will be responsible for my own insurance and make sure that it is at an appropriate level for this trip and activities you will be participating in (if in doubt, check with your insurance provider). 
The resort
 is at 1,7000m and the highest point is at 2,250m which means it's 
Glacier High Altitude Guaranteed Snow
 - high altitude skiing. And I've been assured by our hostel that artificial snow can also be used if needed. 
Length of ski slopes: 90km easy 45km medium 29km difficult 16km. Number of ski slopes 42 Green 8 Blue 14 Red 14 Black 6 Ski lifts 19 Ski tows 11 Chairlifts 7 Cable cars 1. To see a detailed map, please follow this link: http://www.chamrousse.com//images/info_pages/planpistes-906.pdf.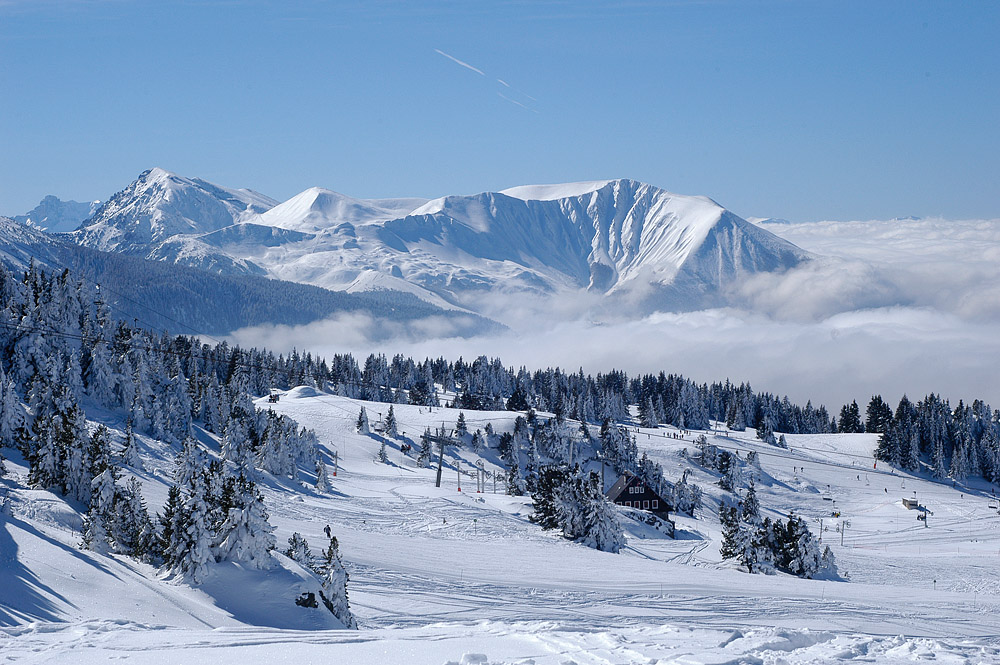 Recommended flights (Easy Jet):

London Gatwick to Grenoble
Dep Fri, 21 March[masked]:25Arr Fri, 21 March 2014 09:00Flight 89411 Adult1 x £32.49
Grenoble to London Gatwick
Dep Sun, 23 March[masked]:40Arr Sun, 23 March[masked]:15Flight 89481 Adult1 x £44.97
Subtotal flights and options for all passengers: £77.46
Plan of the trip:(subject to small changes)
Friday 21 March
9am meeting at the airport in Grenoble. I will be waiting for you just at the exit from the secure zone.
9am - 9:30 waiting for everyone to get through security and pick up luggage (please note that this may take longer if anyone is held up at the border)
9:30 - 10:30 transfer to Chamrousse
10:30 - 11:00 - check in at the hostel and refreshing (if the rooms are not ready yet you will be able to leave your luggage in my room as I will have already checked in)
11:00 hitting the ski slopes!
I will find out what time are the meals and give you more details sclose ro the trip, but they are all confirmed and booked.
Evening - we will check out local bars. :)
Saturday 22 March
Skiing all day. Again, I will post the meals' schedule a little bit closer to the date.
Sunday 23 March
Skiing in the morning.
14:00 - 15:30 transfer to Grenoble airport. 
Chamrousse: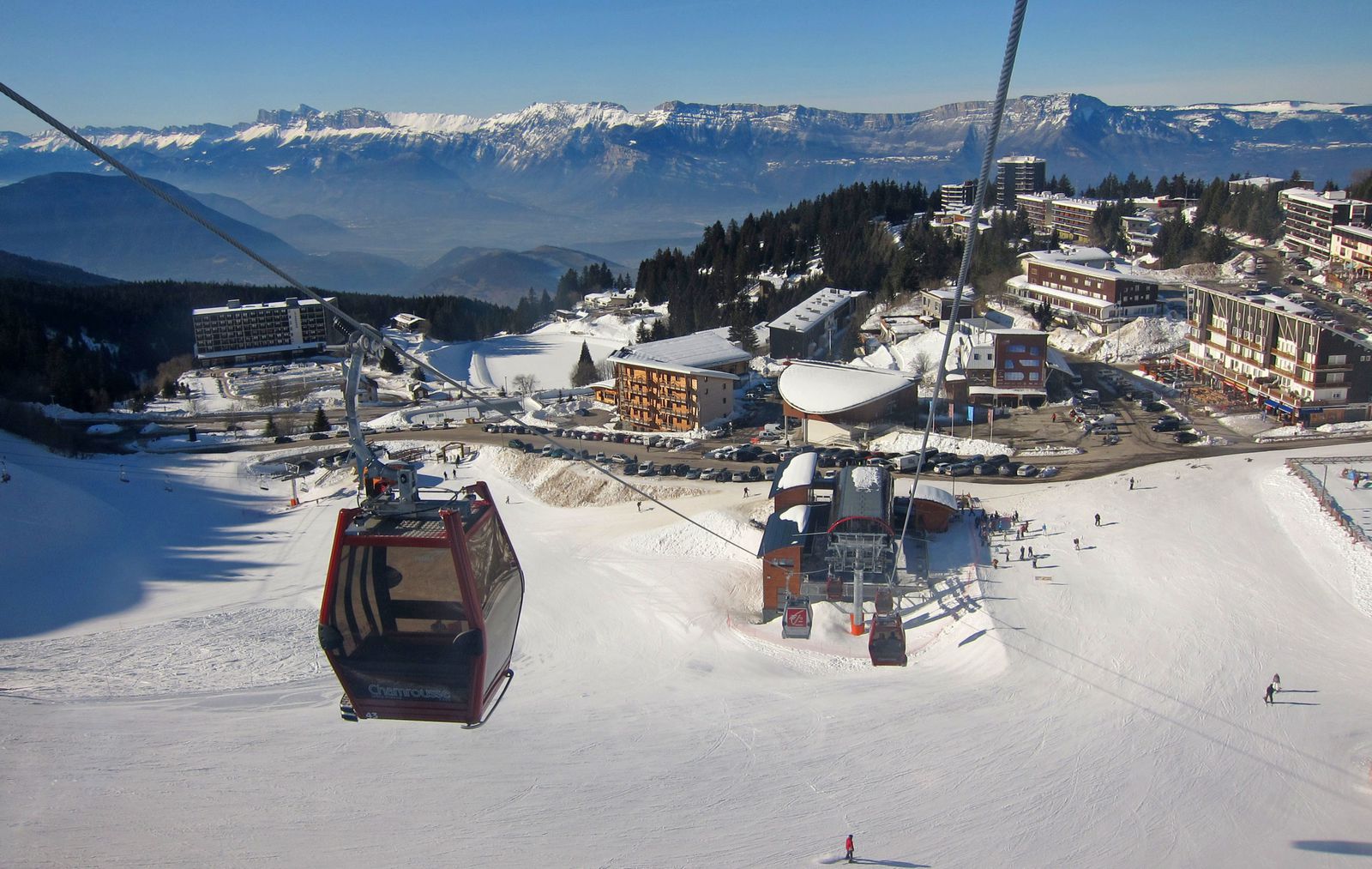 Chamrousse is situated at approx. 1,700 m in the Belledonne Massif and offers a gorgeous view of the 30 km distant Grenoble and surrounding mountains. The resort is known mainly due to the Olympic Games, but also hosts one stage of the Tour de France. The westward exposure of the town guarantees not only excellent snow but also a lot of sun in the afternoon and evening. A particular attraction is the sunset over the French lowlands, which causes the clouds and snowfields to glow red--hence the name Chamrousse, which means "red fields". Chamrousse stretches out a total area of 1, 300 hectare on many levels. From the chalet village Bachat-Bouloud (1,700 m) on the Plateau de l'Arsalle (1, 600 m)you can take the bus to the other districts Roche Béranger (1,750 m) and Recoin (1,650 m). There you will find further amenities characterising a modern winter sports resort, e.g. cosy cafes, bars, restaurants and of course several shops to stroll around in.  Chamrousse is the former host to the Olympic games in 1968, and has ever since grown in popularity and has helped the French skier Jean-Claude Killy to write a piece of history.
Accommodation:
Hostel style accommodation - 3-4 people per room, with bank beds. The hostel is in excellent location 300 metres from the slopes. They have good reviews on-line and the food although simple has been rated as good quality. 
Beginners
For beginners there are nursery slopes to start you off in resort and there are a nice variety of green and blue runs on the Arselle plateau to help you build your confidence. 'Les Cretes' blue run offers spectacular views as it winds its way on to the 'ours' blue run that descends through the trees.
No instruction is included in the price, however you can book your instructors from here: http://www.esf-chamrousse.com.fr/ski-school-chamrousse/ . 

Intermediates
For intermediates there are plenty of red runs to keep you entertained including the 'Arolles' which will take you past the frozen lake du Vallons. There are some good long red runs starting above the tree line offering spectacular views across the Grenoble valley and finishing with some fantastic tree lined skiing.
Advanced
For the more adventureous the '1968 Olympic' black run, with its 805 metres of vertical drop, and the 'Couloir de Casserousse' are both runs not to be missed out on. There is also a variety of off piste opportunities available, to note, the Recoin and Roche Béranger areas with their tree lined off-piste descents back to the resorts.
Cancellations:
Please note that unless the trip is cancelled the payments are non-refundable as the costs need to be paid in advance. However you may be able to sell your place to your friends or other group members if you follow this procedure;http://www.meetup.com/Curious-Kat-Adventure-Club/pages/What_to_do_if_you_can_no_longer_attend_an_event/.
The mountains of the Belledonne massif 
form the western edge of the 
French Alps 
and stretch over 60 km from Grenoble to Chambéry. The picturesque peaks not only design a wonderful backdrop for the city of Grenoble, they are also an attractive winter sports destination. The Belledonne mountains offer some of the most exquisite French ski areas.  
Typical costs 
· small draught beer £2.30 · bottle of house wine £8 · pizza £7 · cup of coffee £1.60 · glass of coke £2.40