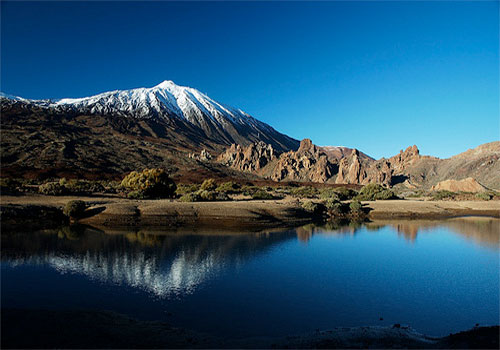 I don't know about you, but there is a limit to how much cold and miserable UK weather I can take. And while it is great to make the most of the winter sports and while skiing and snowboarding are fun, at some point we just need to get away from the snow and look for the summer. 
With the highs of 20 centigrades in March Tenerife will be an excellent place to get first sun rays. While UK's temperature will be still nearing zero, we will hopefully be able to sport sun kissed skin our return... 

What will we do? 

Snorkeling and whale watching are the main highlights of the trip. We will also visit the National Park of the Volcano Mount Teide and another small island known for its natural beauty: Gomera. We will also have some time to visit the local market, however if you are not up for it you can spend this time at the beach instead. 
3-4 people appartments only 5 minutes walk from Playa de las Vistas (one of the greatest sandy beach in Tenerife). If you would like a single room it may be possible at the premium (please let me know you are interested and depending on the amount of people we have I will try to accommodate it).
What's included: 3 nigths accommodation, trip to another island (Gomera), boat ride, hiking, whale  dolphins watching, snorkeling, visit to a natural park of a volcano Mount Teide, airport transfers.  

What's excluded: food and drinks, optional excursions, cable car
Deposit: of £100 (+paypal fees) needs to be paid on RSVP to secure your place. Please note, until the deposit is paid your place is not confirmed. 

The final payments have to be in my account two weeks before the trip the latest. Please put this date in your diary now as no reminders will be sent and if you have not paid by then you will be removed from the trip and your deposit will not be refunded. Bank account details to pay the balance can be found here: http://www.meetup.com/Curious-Kat-Adventure-Club/pages/Bank_account/. Please make sure you account for the paypal fees in your calculations (so the £3.70 on top of £100 deposit should not be deducted from the reminder of the payment) 

IMPORTANT: By signing up to this trip you have agreed to the following disclaimer: 

'While safety is our top priority and although we never take unnecessary risks, we do recognise that any outdoor activity/trip involves a danger of personal injury or death. Remember that you should be aware of and accept these risks as you are responsible for your own safety and you should not undertake anything beyond your abilities. It is also your responsibility to be correctly equipped for the weather and activity you have chosen to participate in.' The organiser only facilitates the group, and doesn't take responsibility for your safety during the trip.
INSURANCE:
You also confirm that you will be responsible for your own insurance and make sure that it is at an appropriate level for this trip and activities you will be participating in (if in doubt, check with your insurance provider). 
BAD WEATHER: 
With all the crazy stuff happening with the weather recently, please note that we may be prevented from doing some of activities due to unpredictable weather events. If this is the case replacement activities will be offered.  
Weather lowdown 

In March, when the spring season is just around the corner, the average temperature is 17°C, with highs of 20°C being common. The daily sunshine hours and average days of rainfall are the same as February, 9 and 11, respectively. The sea temperature stands at 19°C, which when combined with the increased temperature makes it a great time for enjoying a swim in the sea.
Recommended Flights:

London Gatwick to Tenerife South
Dep Thu, 06 March[masked]:00Arr Thu, 06 March[masked]:25 Flight 87031 Adult1 x £60.49
Tenerife South to London Gatwick
Dep Sun, 09 March[masked]:15Arr Sun, 09 March[masked]:40 Flight 87061 Adult1 x £53.49
Subtotal flights and options for all passengers: £113.98
Cancellations:
Please note that unless the trip is cancelled the payments are non-refundable as the costs need to be paid in advance. However you may be able to sell your place to your friends or other group members if you follow this procedure;http://www.meetup.com/Curious-Kat-Adventure-Club/pages/What_to_do_if_you_can_no_longer_attend_an_event/.