Post #: 296
THE ELITE RUMBERO ENTERTAINMENT PRESENTS
SENSUAL SALSA TUESDAYS AT SUMMERS RESTAURANT.

GRAND OPENING TUESDAY FEB 22, '11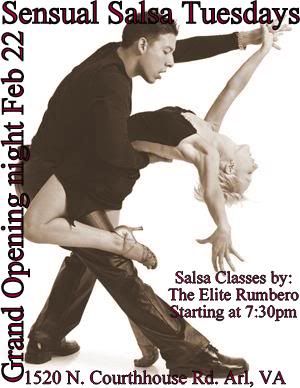 New Year! New Venue!
Hello My Salsa Dancing Friend!
I would like to personality invite you to my GRAND OPENING NIGHT FOR SALSA CLASSES AND SALSA DANCING ON TUESDAY FEB, 22. We are going to have two of the hottest DJs in the Washington, DC area. DJ The Elite Rumbero & DJ Karz playing the hottest Salsa, Merengue, Bachata, Cha Cha Cha, Guaguanco, Mambo, Timba and much more!
There will be three sets of classes, Beginner and Intermediate Salsa class. A very special Intermediate Bachata class. These three classes will last until to the end of the month of March.
Details for the salsa classes:

7:30pm - 8:30pm Beginner class
8:40pm – 9:10pm Intermediate Class
9:10pm – 9:40pm Intermediate Bachata Class
Free Salsa & Bachata lessons!!!

OVER 21 $7.00 ENTRANCE FEE ALL NIGHT!!!
UNDER 21 $10 ENTRANCE FEE ALL NIGHT!!!

PROPER ATTIRE IS REQUIRED!!!

Food and Drink Specials:
Margaritas $4
Corona $4
Yuengling $4
(Please ask you server for the food specials)

Premium White and Red wines:
Pino Grigio $5.50
Pinot Noir $5.50

PARTY HOURS FROM 9:40PM TO 1:00AM

There will be a dance contest this night!

1st place $40 Dollars gift card from Summer Restaurant.
2nd Place $25 dollars

We are also giving away Music Cds as well as other things.
Summers Restaurant
1520 North Court Rd.
Arlington, VA

http://www.summers-re...­
½ block from the courthouse metro station (Orange line)
We are at the Corner of N. Courthouse Rd. & Wilson Blvd.
This event is brought to you by
The Elite Rumbero Entertainment LLC