ITALIAN-AMERICAN in a POP MUSIC CONCERT
@ WOLF TRAP in VA



Valli and The Four Seasons at
London's Royal Albert Hall, June 2012


*** NOTE *** NO TICKETS SOLD HERE @ PIAZZA ITALIA. PLEASE, BUY YOUR OWN TIX THRU THE BELOW LINK


FRANKIE VALLI & The FOUR SEASONS in CONCERT
CONTEMPORARY OLD MUSIC
SUNDAY, JULY 21, 2013 @ 8:00 PM
WOLF TRAP
1624 Trap Road | Vienna, VA 22182
PHONE: (703)[masked]
TO BUY YOUR TICKETS >>> "CLICK HERE"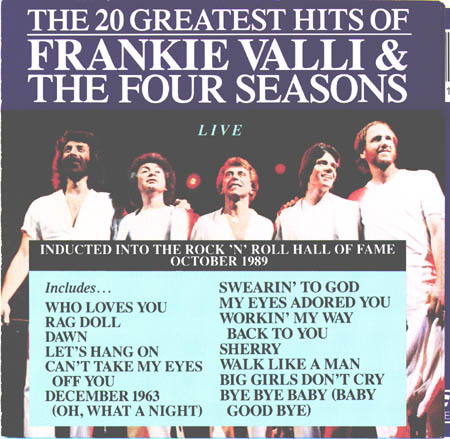 Oh, what a night!!! Rock and Roll Hall of Famers perform your favorite doo-wop hits like "Walk Like a Man," "Big Girls Don't Cry," "Sherry," and more!

Between 1962 and 1995 Frankie Valli & The Four Seasons produced 46 songs that placed on the Billboard Hot 100 chart.





Jersey Boys, the 2005 biographical musical that follows the career of Valli & The Four Seasons, launched a new wave of interest in the group and went on to win several Tony Awards, including one for Best Musical.




As a solo artist, Valli has enjoyed success with hits "Can't Take My Eyes Off of You," "My Eyes Adored You," and "Grease."