ITALIAN FOLK MUSIC CONCERT
from REGIONE PUGLIA @ the CREATIVE ALLIANCE


BACK in The U.S. By POPULAR DEMAND:  ITALY's # 1 FOLK MUSIC group from the PUGLIA REGION !!!
*** NOTE *** NO MEETUP PLACE IS SCHEDULED for this event. NO tickets are available @ PIAZZA ITALIA.  PLEASE, buy your tickets thru the link provided with this event announcement.

CANZONIERE GRECANICO SALENTINO FOLK GROUP
The SOUNDS & DANCE OF ITALY's PUGLIA REGION
FRIDAY, JUNE 28, 2013 @ 8:00 PM
CREATIIVE ALLIANCE - The Patterson
3134 Eastern Ave. | Baltimore, MD 21224
PHONE:[masked] ext.205
BUY YOUR OWN TICKETS >>> "CLICK HERE"
FOR INFO Gina CARUSO: [masked]
Canzoniere Grecanico Salentino dynamic seven-piece band hail from the PUGLIA region.  They lead southeastern Italy's pizzica taranta music and dance tradition while also disseminating a re-invented twist for a global audience. The ensemble, founded in 1975 by Daniele Durante, is now led by his son Mauro, a noted percussionist and violinist. Hamilton says, "this band is high-energy and they bring a wonderful dancer with them. They have made this folk music into a really dynamic new form."
REGIONE PUGLIA
The Canzoniere Grecanico Salentino returns from PUGLIA to BALTIMORE, MD. after successful, standing ovation concerts @ the National Geographic Society Theatre, Kennedy Center in DC, and the Artisphere in Arlington, VA !!!  


Thrill to the captivating sounds of cutting-edge FOLK music with Canzoniere Grecanico Salentino from LECCE - Regione PUGLIA.


WOW!!! Watch this VIDEO. Fast, hypnotic, tambourine-driven!
The legend is that "PIZZICA" (BITE) music was performed by itinerant musicians to help peasant women in Puglia recover from a Tarantula spider's deadly bite.

Dancer Silvia Perrone, Canzoniere Grecanico Salentino - 2010 Best World Music group at Italy's MEI CONFAB competition!
 CANZONIERE GRECANICO SALENTINO, a seven piece Top World folk Music band + dancer @ http://www.canzonieregrecanicosalentino.net/
Many of the folk dances of Puglia were brought to Italy by the ancient Greeks, for example the famous "La Tarantella" based on the ancient Greek Dance of Dionysus. There has been a huge revival and interest in these ancient dances continues to grow.  Traditional Dance Festivals in Southern Italy have been drawing huge crowds from all over Europe.  The yearly "La Pizzica Festival" (aka Notte della Taranta Bite Festival)  - a frenzy dance festival (The Tarantula is a deadly spider from TARANTO - Puglia region)  drew over 200,000 people to southern PUGLIA from Europe during the week of August 26, 2012.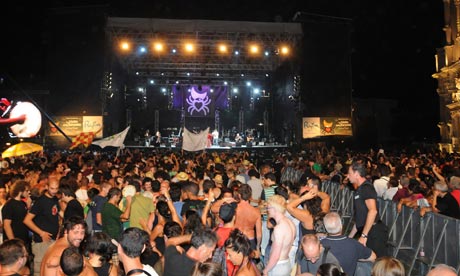 August 26, 2012 @ Melpignano (LECCE) Regione Puglia, "LA PIZZICA" Festival (aka Notte della TARANTA) attracted over 200,000 revellers from all corners of Europe.