AUTHENTIC ITALIAN DINING OUT


"Taste of the Homeland" - Enjoy YUMMY, AUTHENTIC
PIZZA from NAPLES
PIZZERIA DA MARCO
A "REAL" TASTE of NAPOLI in the U.S.A.
SATURDAY, JULY 27, 2013 @ 6:30 PM
8008 Woodmont Ave. | Bethesda, MD 20814
PHONE: [masked]
Web Site: http://www.pizzeriadamarco.net
FREE PUBLIC GARAGE PARKING
on weekends on Woodmont/Norfolk Ave. (2 blocks away).
METRO RAIL: RED Line - Bethesda Stop.
---


An elegant and spacious restaurant DA MARCO offers white table cloths, friendly waiters, and 45 specially selected Italian wines. Yet, remember that " L'acqua si beve, il vino si gusta! You drink water, you savor wine!"



The place clearly channels pizza from Naples.

Classic Italian Menu: Authentic antipasti options with bruschetta, focaccia and mozzarella caprese, salads, and calzones. Pizza is the real deal. Enjoy the authentic NEAPOLITAN pizza prepared by our PIAZZA ITALIA Member, Neapolitan born Chef Dino Santonicola.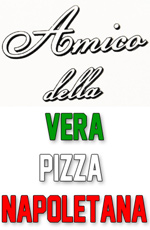 Our PIAZZA ITALIA's Member, Executive chef Dino Santonicola from Naples. Cooking pizzas in Italy for 20+ years (since age 13) by wood fired brick oven built in Naples by Stefano Ferrara

Making authentic Neapolitan pizza with imported Italian tomatoes, bufala mozzarella, and super-soft and fine "double zero" Italian flour in "the Rolls-Royce of pizza ovens" a 4,800-pound, 900-degree oak-burning baking statement designed/made in Naples by Stefano Ferrara with volcanic materials from Mount Vesuvius.  It can simultaneously cook seven 12" pizzas in a whopping 60 seconds!




The pizza oven at da Marco is the same as at Italy's Pizzeria Brandi in Naples (where our certified pizzaiolo Dino used to cook) - the 231-year-old birthplace of pizza "Margherita" (resembling the Italian flag red,white,green and named for the Italian visiting queen Margherita).



NOTES: Pizza originated in Naples and pizza made at Da Marco is NOT for "closed-minded" pizza-lovers. 
Making Neapolitan pizza is an art and a profession in Italy.
If you want Domino's or Pizza Hut style pizza, just stay home and order delivery.  
At Pizzeria da Marco prices are reasonable. Pizzas range from $8.50 - $15 and could easily feed two.  Menu includes classic desserts tiramisu and gelati!

Restaurant DA MARCO's General Manager Alessandro Ferro is from Italy and was a manager @ Bartolotta restaurant in Las Vegas and Assaggi Osteria in McLean.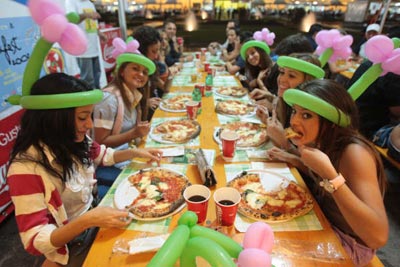 W (Viva) la pizza napoletana e Buon Appetito ai nostri soci di "PIAZZA ITALIA"
The stunning, enchanting Mediterranean coast of NAPLES (NAPOLI) !!!