Monthly meeting in North Plano. Author call-in with author guest Elaine Viets.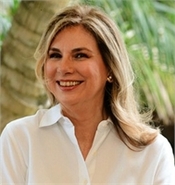 As a young girl, Elaine Viets was taught the virtues of South St. Louis: the importance of hard work, housecleaning, and paying cash. She managed to forget almost everything she learned, which is why she turned to mystery writing.
Living in South Florida has not improved her character. But it has given her the new bestselling Dead-End Job series.

Like her character Helen Hawthorne, Elaine actually works those rotten jobs. Her first book in the series is SHOP TILL YOU DROP, a novel of sex, murder and plastic surgery. It's set at a fashionable dress shop that caters to kept women. Book two, MURDER BETWEEN THE COVERS, takes place at a bookstore. For the third, DYING TO CALL YOU, Helen works as a telemarketer.
Elaine's short story, "Red Meat," is in BLOOD ON THEIR HANDS, the Mystery Writers of America anthology edited by Lawrence Block. "Sex and Bingo" is featured in the HIGH STAKES gambling anthology. Both are published by Berkley Prime Crime.
She has also written four critically acclaimed Francesca Vierling mysteries.
Elaine has been on the national board of the Mystery Writers of America and a member of Sisters in Crime. The St. Louis native now lives in Fort Lauderdale, Florida, with her husband, actor Don Crinklaw, where they collect speeding tickets.
Books:
Pumped For Murder
, May 2012
Dead-End Job
Paperback (reprint)
Death On A Platter
, November 2011
A Josie Marcus, Mystery Shopper Mystery #7
Paperback
Pumped For Murder
, May 2011
Dead-End Job #10
Hardcover
An Uplifting Murder
, November 2010
Mystery Shopper #6
Mass Market Paperback
Half-Price Homicide
, May 2010
A Dead-End Job Mystery
Hardcover
The Fashion Hound Murders
, November 2009
Mystery Shopper #5
Paperback
Killer Cuts
, May 2009
Dead-End Job #8
Hardcover
Murder With All The Trimmings
, November 2008
Mystery Shopper
Paperback
Clubbed to Death
, May 2008
Dead-End Job
Hardcover
Accessory to Murder
, November 2007
Mystery Shopper #3
Paperback
Murder Unleashed
, May 2007
A Dead-End Job Mystery
Paperback (reprint)
Murder With Reservations
, May 2007
Dead-End Job Mystery
Hardcover
High Heels are Murder
, November 2006
Mystery Shopper #2
Paperback
Just Murdered
, May 2005
A Dead-End Job Mystery
Paperback
Drop-Dead Blonde
, February 2005
Paperback
Dying To Call You
, October 2004
A Dead-End Job Mystery
Paperback
Murder Between The Covers
, December 2003
A Deadend Job Mystery
Paperback
Shop Till You Drop
, May 2003
A Dead-End Job Mystery
Paperback
Menu:
American Cook Out
Appetizers: Jill
Hot Dogs / Hamburgers / Sausages: Reyes
Sliced Cheese for topping: Sherry Moran

Rolls for meat: Sandi

Salad:
Potato Salad:
Other Salad / cold dish: coleslaw: erica
fruit salad: Summer

other?

Condiments:
Pickles:
Dessert: Deborah

Wine: Donna