November 20, 2013 · 7:00 PM

This location is shown only to members
Join the always funny and entertaining Elizabeth Boyle on Wednesday night as we celebrate Thanksgiving.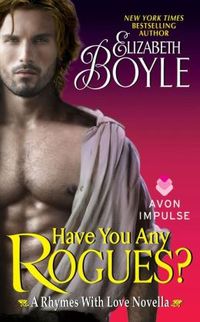 Elizabeth Boyle has always loved romance and now lives it each and every day by writing adventurous and passionate stories that readers from all around the world have described as "page-turners." Since her first book was published in 1996, she's won the RWA RITA Award and a Romantic Times Reviewer's Choice Award and saw her last five titles become USA Today bestsellers. She resides in Seattle with her husband and two small sons, or "heroes in training" as she likes to call them.
Her latest book is HAVE YOU ANY ROGUES? and available as e-book now. We all met the Rogue this weekend so it's fun to talk to the creator.
Thanksgiving! Traditional so you don't have to!
Menu:
Appetizers: hot spinach artichoke dip with chips Ande
Turkey and gravy: DC Reyes
Mashed potatoes:
Dressing or stuffing:
sweet potatoes / yam dishes (2):
Vegetable dish (from a family recipe or something you want to try)
Corn dish (maybe the corn souflle? or other southern corn dish): Jill
Salad: (we're trying to be healthy)
relishes:
Cranberry 1: Mitzi
Cranberry 2:
Cranberry 3: (bring the canned jelly) Ande
rolls: yeast
cornbread:
DESSERTS:
Pumpkin pie: (Costco is only $5.99 for 12 inch) Sylvia
Apple pie: Sandi
Pecan pie:
Ice cream: Suvi
Other:
Wine: Donna