In the 80's, we didn't need to be part of a series or continuing story to throw a number after a title and the second two films in our made up trilogy prove that... with a VENGEANCE (and this time... it's personal.)
Our night of horror begins with a classic from the school
of Roger Corman: HUMANOIDS FROM THE DEEP (1980).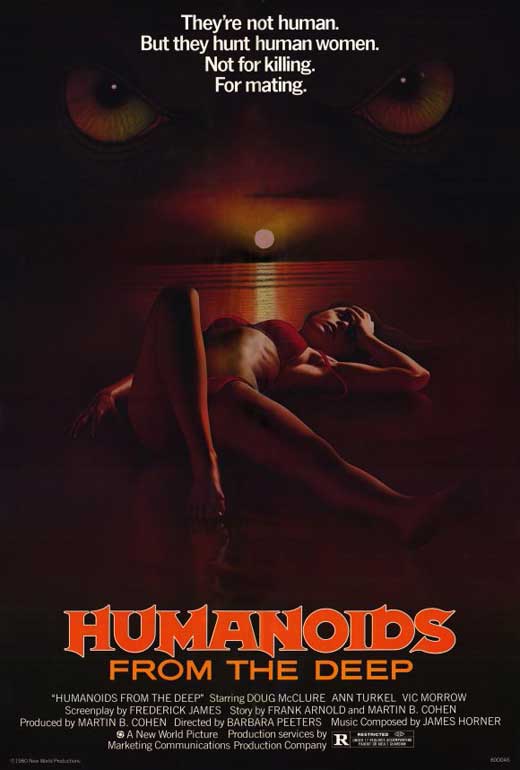 Science goes wild after an accident creates a race of half-man, half-fish (and completely sex-crazed) creatures that rise from the depths with only one thing on their mind... Only Doug McClure can save the nubile and scantily clad women of his fishing village from a date with the HUMANOIDS FROM THE DEEP!
Next up, we'll travel to the other end of the decade and try to survive the film that is currently battling THE ROOM and PLAN
9 FROM OUTER SPACE for the title of Worst Movie Ever Made...1990's TROLL 2,

A family vacation to a small town turns to terror when they discover it is overrun by hungry hungry goblins. That's right... GOBLINS. There are no trolls in this movie at all and it has nothing to do with 1986's TROLL. Director Claudio Fragrasso hastily wrote the screenplay with his wife, neither of whom could speak English very well, and the result is a truly one of a kind cinematic... experience.
To wrap up our trilogy, we will watch one of the most out-there genre mash-ups of the decade, NINJA III: THE DOMINATION (1984)

Lucinda Dickey (the star of BREAKIN' and BREAKIN' 2: ELECTRIC BOOGALOO) is our heroine telephone repair-woman/aerobics instructor who is possessed by the spirit of an evil ninja hellbent on wiping out the police officers that killed him. It's an over-the-top martial arts flick combined with gloriously cheesy scenes ripped off from THE EXORCIST and POLTERGEIST with healthy doses of synthesized music videoes of bouncy women with gigantic hair
wearing legwarmers and headbands. All that's missing is a group of precocious kids and this movie would have hit every popular genre of the 1980's!
I'll have munchies and drinks and you are more than welcome to bring something to share with everyone but please don't feel obligated. I'll post what I'll have closer to the event and if you are bringing something please post it so everyone can plan accordingly. Also, if you can not attend and have RSVP's, PLEASE change you
status asap so others can attend. See ya for a seriously gnarly night of coolness!