For the final Old School Movie Night of 2013, I wanted to go back and do some truly old school horror movies since I seem to have been stuck in the 1970's and 1980's a lot for past... oh... many movie nights (not that that is a bad thing). I'm also
shooting for this to be a very low key, comfortable meetup hence the slightly smaller attendance number (so we can stretch out so to speak), the Sunday afternoon time period (all three movies are very short so it will not be a late night, the longest movie is all of 73 minutes), and the comfort food (see the
bottom for what it is).

Since the weather outside will probably be nippy and all of Denver will be out and about frantically searching for Black Friday weekend bargains, why don't we take a break from it all and curl up with some atmospheric, quiet and (mostly) bloodless masterpieces with a cuddly trio of feline themed films from a
very underrated master of horror, Val Lewton.
First up: 1942's CAT PEOPLE


Simone Simon plays the mysterious Serbian woman, Irena, who believes she is descended from a race of people who transform
into murdeous cats when sexually aroused. Is our foreign beauty crazy or dangerous... or both? Her new boyfriend Oliver (Kent Smith) is about to find out.
Next up is 1943's THE LEOPARD MAN

A publicity stunt in a rural New Mexican town goes wrong and the wild leopard at the heart of the stunt escapes. Soon people in town are ending up mauled to death. But is it really the wild animal, or a serial killer using the incident as a cover?

Last up is 1944's wonderful fantasy CURSE OF THE CAT PEOPLE: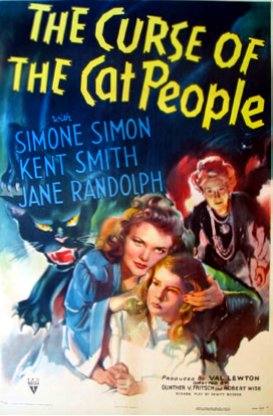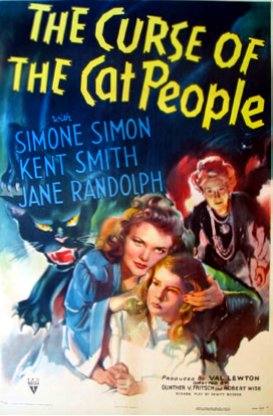 RKO demanded a sequel to the huge hit CAT PEOPLE but Lewton had no interest in going back to that story. So what he did was change the character names of a very personal child's ghost story he had written and simply shot that using the CURSE OF THE CAT PEOPLE title the studio forced on him. The result is
a beautiful fairy tale-esque film that flopped upon its release but has since been compared to Cocteau's LA BELLE ET LE BETE as one of the most gorgeous psychological thrillers of the era.
This meetup will be on Sunday, December 1st at 1:00pm at my place (if you haven't been here before I will e-mail directions a few days before the event). I'll have a big pot of chili and a pitcher of sweet tea (and blankets to curl up in) for everyone. If you would like to bring something to share, please feel free and post what you are bringing so others can plan accordingly. Also,
since this meetup is even smaller than my usual ones, PLEASE change your RSVP if you can't make it.
See ya in December for an afternoon of happy kittys. Purr, purr, purr!