***This is a No Flake Event***
NOTE: THIS MOVIE IS ON FRIDAY
NOTE: This Movie is at Digiplex Destinations, Mission Valley
PLEASE READ BELOW!
SINCE THIS MOVIE IS NOT ON TUESDAY/THURSDAY TO RECEIVE YOUR DISCOUNT YOU WILL HAVE TO GET A VIP TICKET FROM ME. 
>>>DO NOT GO DIRECTLY TO THE BOX OFFICE<<<
PLEASE BE ON TIME!
Here is your chance to see the movie:
"LABOR DAY" (PG-13)
(Right click above and open in new tab or window for trailer)
Please come early at 6:00 PM to relax and converse with your fellow movie going friends and to make sure you have enough time to get your voucher from me first to exchange for your ticket at the box office.
If possible, try to have exact change.
The Movie starts at 7:00 PM.
We will meet above the box office on top of the stairs by the benches near the Wells Fargo ATM Machine. If it is raining, I will be right inside the alcove from the garage in the same area.
Copy or Write this down:
My name is Jeffrey. I will be your host this evening.
My phone number is:[masked]
Perks:
At Digiplex Destinations, Mission Valley Hazard Center (formally UltraStar) you can get a "Senior" Special:
A child size popcorn and a small drink for $6.75. 
Or a child size popcorn and a bottled water for $5.75.
You can also purchase a "Kid Tray" for $6 which includes popcorn, a child drink and a child size candy.
Please mention Discount Movies and Events, San Diego.
Questions? 
For the Fastest Response...Please Call Me! 
Jeffrey 
[masked]

Before and/or After the movie, if we have enough members that are interested, we will meet at a local restaurant at The Hazard Center to have some time to relax and converse. 
"LABOR DAY" (PG-13)
(Right click above and open in new tab or window for trailer)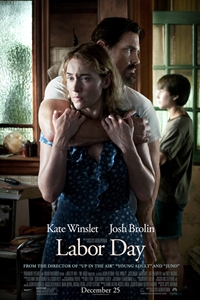 Starring: Kate Winslet, Josh Brolin 
Directed By: Jason Reitman 
Run Time: 1 hr. 51 mins. 
Released By: Paramount Pictures A story of love, passion, and betrayal as seen through the eyes of a teenage boy and the man he later becomes. Henry looks back on his fateful 13th year, when he lived with his reclusive divorced mother. At the start of Labor Day weekend, while on a rare excursion to town, Henry and his mother encounter an injured man who asks for refuge in their home. Over the course of the next four days, they're taken 'hostage' by a man who ultimately captures them, body and soul.



Please Read and Understand:
We only have limited passes available.
BE KIND: IF YOU RSVP YES Please Show Up or Cancel your RSVP Early (at least three hours before our meeting time) so you do not prevent a fellow member from seeing the movie and yourself from getting a No Show (not good).
**Please be courteous to your fellow movie going friends by refraining from talking and texting during the movies. We meet an hour before a movie and/or an hour after so all your conversations should be done then. If you have an emergency and you need to talk, text, or call someone, please step out of the theater as not to disturb anyone else.