January 16, 2013 · 6:45 PM
We do a lot of activities here on Meetup and sometimes so much of our energy is focused on activities that we may not get a chance to get to know the people we play or interact with. Well then...lets do Just Dinner.
The event's featured restaurant:
Mediterranean Deli
6:45pm
About:
Mediterranean Deli is a fantastic little place that serves healthy delicious food at great prices. The soups are awesome and they even bake their own fresh pita bread. Eating at "Med Deli" is like eating at Whole Foods (except cheaper).
People order food at the counter which will then be brought to the table. A selection of iced teas such as rose water tea, pomegranate tea, and good old fashioned sweet tea is usually available.
Med Deli was voted "Best Caterer in Chapel Hill" by Chapel Hill Magazine in 2011 and 2012. It's also been voted the "Most Healthy Restaurant 2011" by The Daily Tarheel.
Not sure what to get? I think the best bang for the buck is their $10 Kebab combo which gives you rice, a hearty kebab, pita bread, and 2 vegetarian sides of your choice from the deli counter. If you're vegetarian they have a great 3-item sampler for cheap.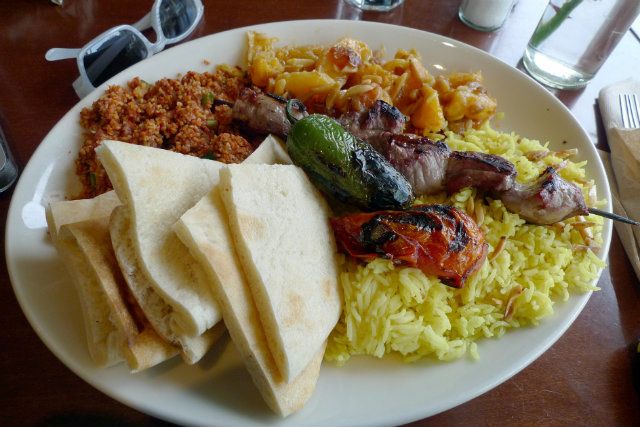 RSVP:
The RSVP limit for this event is 20 people. There will be a waiting list available but priority will go to those who have paid their 2013 membership dues. Med Deli has been kind enough to set aside a space for up to 20 people.
Parking:
Please note that Franklin St. is a nice place to walk through so if you have to park 1-2 blocks away it's not the end of the world and it's great exercise.