I have a portfolio site, which I want a section of the site (not the whole site or single page) to be password protected. The section has multiple pages behind it.

So I am looking for the label "visibility" to check this out. Someone told me this is a default feature in Wordpress called Visibility.

Would anyone know where this is?
Or advise how I can password protected a section of the site.

Edited by Thuy Vuong on Dec 18, 2012 12:12 PM
Post #: 11
Visibility is within the page/post Publish block:
http://screencast.com...
­
There are lots of plugins that will provide some level of restriction to logged in users. You can search
http://wordpress.org/...
­ for something. One that looked okay was this one:
http://wordpress.org/...
­. Membership plugins typically also add the ability to limit content access to members.
Good luck
SallieGoetsch
Group Organizer
Oakley, CA
Post #: 63
It's in the top right above the "Publish" button in your edit window. I'm attaching a screenshot.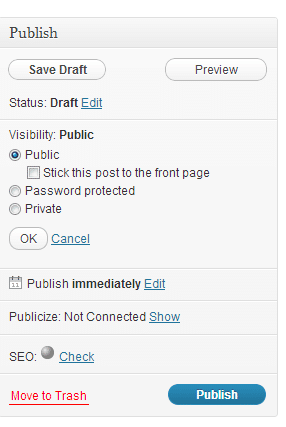 Sallie, OMG, how many times have I used this feature toggling from Public to Private and never saw the Password Protected. Thanks.

Jeff. Do you know if the users are managed on the user interface in WP? This sounds more promising as I will be able to know who is peeking in.

Thanks both.

Post #: 12
Restricting to logged in users would use the standard WordPress user infrastructure, or should. If it doesn't I would steer clear. You'll find premium and free plugins out there, just google "wordpress membership". I'd also check out one of the LinkedIn WordPress groups to find any recent threads on user experiences.