floating candles on the Limmat River, We in for this very Zurich event and the free punch and than we move to XMAS Afterwork Drinks for Business Professionals @ Oliver Twist Pub; Live Music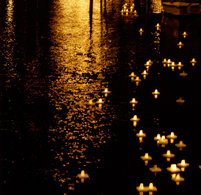 «Lichterschwimmen» floating candles on the Limmat River         Zürich |[masked]

800 little floating candles are traditionally launched (6:00 p.m.) from the Stadthausquai on an atmospheric journey on the Limmat River. At Weinplatz, Zürich Tourism offers its guests warm punch and something sweet - 5:45 to 7:00 p.m
We will enjoy this game of lights and get integrated with all PEER ZURICHERS on this historical place and after the punch and sweets of the city we move on to the oliver twist pub.
So straight up your program and get there for sure at 6PM than the lights are getting into the Limmat!!!
Looking forward to see you also at one of this events on Meetup, on our Facebook and or LinkedIn page and of course please remember to pay your membership fee please!!

Thuersday 18/12 XMAS Afterwork Drinks for Business Professionals @ Oliver Twist Pub; Live Music
Sat Dec 21  8:00 PM   Jingle Belle-vue Drink@ Goethe bar, time to say Merry Christmas & goodbye....

Tue Dec 24  7:00 PM   the Ice Skating at Dolder! A Züri eXpats Event!
Fri  Dec 27   7:00 PM Business Ladies night @ Trattoria....Gentle­men attendance allowed after 9 PM
Sat Dec 28   8:00 PM Saturday snow white Bellevue Drink@ goeth-bye bar 2013,... hello royal lion 2014

Tue Dec 31  8:00 AM SWISS PRIMITIVE NEW YEAR; photogenic ancient Swiss custom, unique in the world!!

Tue Dec 31 11:30 PM Traditional Zuri eXpats NYE party@Jules Verne panorama bar; fireworks&Champaigne
Mon Jan 13 8:00 PM Traditional 2014 New Year's Drink and Dinner for all members of Züri eXpats!

Tue Jan 14  7:00 PM Business Ladies night @ LOFT FIVE...the new place in town... men from 9 PM on
Sat Jan 18  11:00 AM Traditional 2014 New Year's Drink & Awards, PLUS eXpat Movie@ RifRaf Theatre....

We are the most active group of Zurich with most members following us, we still need some members to become active in one of our activitie commitees to help us organising the organisation...