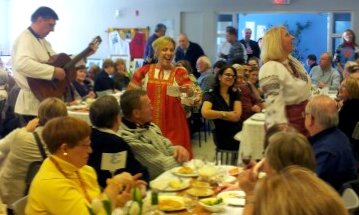 23rd Annual Russian Bliny Brunch. St. Xenia Russian Orthodox Cathedral hosts its popular festive benefit of Northern Russian culinary heritage, art and music.
12:30 pm sharp. Parish Hall, 2 Colchester Square, Village Green, Kanata.
Table d'hote featuring bliny crepes with caviar, smoked salmon and other delicacies, dessert table.
Art and objet d'art auction. Live folk entertainment.
Church tours. $35 adults, $20 children. Sparkling wine, Russian beer and flavoured vodkas. Always sells out. For more info and purchase tickets,

More details: http://bliny2013stxenia-es2005.eventbrite.com/