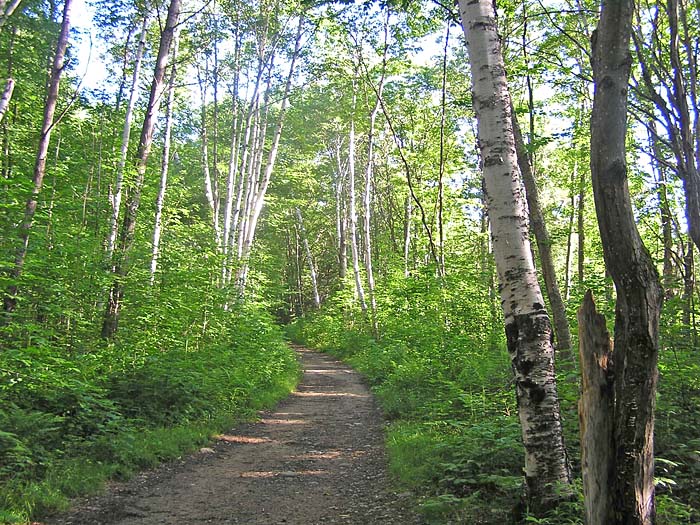 Franconia Brook Tentsite is located on the Eastside trail, on the East side of the Pemigewasset River, 3 miles in from the Lincoln Woods trailhead. (Not the Lincoln Woods Trail). The Eastside Trail is flat and easy. There are approximately 18 tentsites available for overnight use. Some of the sites are rough and need maintenance.  The tentsites are first come, first served, include a metal fire enclosure and are designated by a numbered stake. There are two good clean toilets. Water is available at the nearby East Branch and must be filtered and/or treated to drink. A  red bear box is available to store food or any substance with an odor. ANY food left in packs, tents or clothing invites small and large visitors who will chew thru any fabric to get it. Black bears are active in this area. Some visitors have fed the bears, so they associate campsites with food. Remove all food and trash when leaving. There is NO cell phone coverage in this area.

After we set up camp there are day hikes that you can do, but some distances are substantial. Hiking Black Pond or Franconia Falls will require a trip back to the trailhead. Due to storm damage, there are no longer any river crossings.  Cedar Brook Trail and the site of the former suspension bridge is about 3 more miles on the Eastside Pemi Trail  ( 6 mile round trip). Bring your fishing license and pole. We will be right on the river. 
Distance: 6 miles (Over 2 Days) plus any day hikes.

Trails: Eastside Pemi Trail 
Time: 2 Days & 1 Night
Elevation: Minimal
Difficulty: Easy, Beginner Level

Features: River, Waterfalls
Special Equipment: Map of area and compass, backpack, sleeping bag, tent. Supplies for 2 days. Bring a sturdy bag for storing your food in the "bear box". A suggested gear list for a 2-day hike is found under "Discussions" at the top of the page. The only USFS ranger is at the trailhead. Equipment is left on site at your own risk, although thefts are rare.
Guest: Yes Bring One 
Dogs: Not on this trip.
What Every Tortoise Needs To Know Before Hiking
Check Weather Conditions For This Hike
• This is a first come first served camping area. If it is FULL or does not have enough for all of us to camp then maybe some can camp at one of the WMNF campgrounds.  The Hancock campsites are across the highway and are 1st come/1st served for $22..  
• We won't know the number of vacancies until we arrive at the campsites. 
• Lets plan to have two people per tent if possible to minimize the number of sites we need. We can spread out as we wish and be more comfortable if there are sufficient sites.        
• Please arrive by 8:45AM, so we can start hiking by 9:00AM. Est. 60-90 minutes at a comfortable pace.

• Parking in the trailhead parking lot costs $3.00 per day - cash only.