July 4, 2013 · 8:30 AM

This location is shown only to members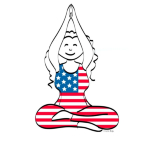 Begin your 4th of July holiday with an energizing yoga practice in the Park. With your friends and family members spend some time in meditation to be thankful for your freedoms and offer up your breath, your practice, and accumulated energy to those who need it.
Let's dress up in a red-white-blue yogi outfit, and allow yourself a childlike joy to start celebrate the holiday on the mat!
(!) ATTN to Music Enthusiasts: You are very welcome to suggest patriotic tracks for our Special Americana Playlist, till July 2nd. If it is chosen, you are set for the class.
A happy 4th of July to you and your family! THE FREEDOM STARTS WITHIN!
***
Lokah Samastah Sukhino Bhavantu
[Translation: May all beings everywhere be happy and free, and may the thoughts, words, and actions of my own life contribute in some way to that happiness and to that freedom for all.]