We have only a few hours until the Comedian Showcase & Concert begins
TODAY at 4pm
. If you are attending please RSVP now there are still a few seats left, but only a few. This event is FREE so bring a friend. Food and drinks can be purchased during the show so come hungry (
Today at 4pm
). The cost is $5. If you have any questions or concerns please email us at
info@AgapeSoulNation.com
­. This is a great location for newbies, experienced poets, singers and comedians so come support the DMV areas best talent. I look forward to meeting you all for a great night of poetry and entertainment.
COMEDIAN SHOWCASE & CONCERT
11 PLUS Comedians & 11 Vocalists All Very Talented Performers
RSVP NOW:
ASNComedyShow.Eventbrite.com
­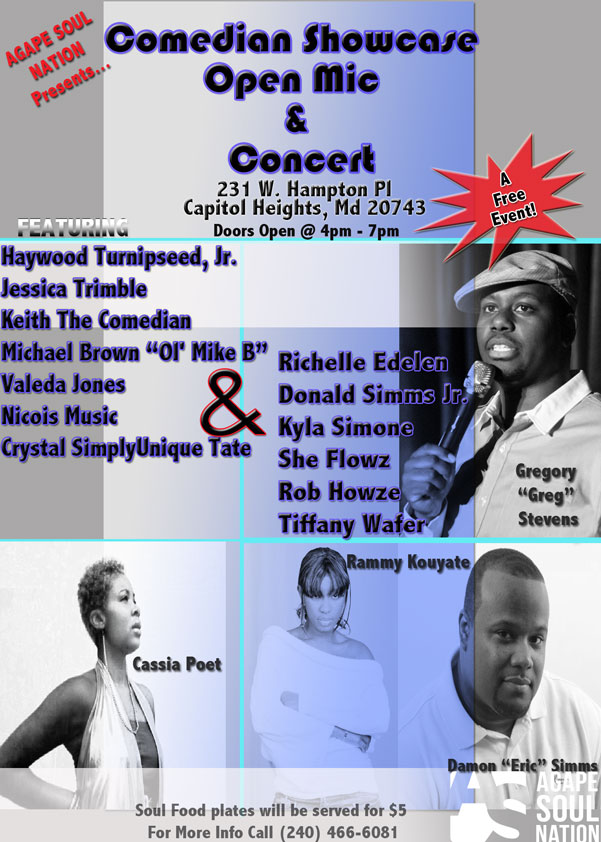 You're Invited ToLAUGH, LOVE, & Be ENTERTAINED!!COME OUT AND ENJOY DMV's COMEDIANS SINGERSASN "DJ Freeze" SPOKEN WORD ARTISTS MUSICIANS Plus MORE!!IT'S ABSOLUTELY FREEREGISTER NOW!!!