Instructor: Sandy VonDeLinde, Certified QuickBooks ProAdvisor, Accounting Consultant and former multi-store retail store owner.
Cost: FREE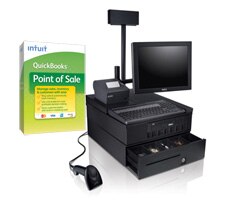 What is POS?  POS, or Point of Sale, is software that replaces a retailer's traditional cash register, tracks inventory, sales, and customer information, and provides business management reports.
Workshop Description: Please join us for this brand new workshop!  If you own or manage a new or existing retail store, this workshop was designed especially for you! Come and learn about QuickBooks Point of Sale 2013.  We'll explain the main features and benefits, as well as provide a demonstration of the software. We will also show some of the peripherals like bar code scanners and receipt printers. Compared to other POS systems, QuickBooks POS is reasonably priced and easy to use.  Plus, it works perfectly with QuickBooks accounting software. As a bonus, we will be providing a special offer on POS software and hardware to all who attend.
QuickBooks Point of Sale 2013 
Easily Get Data That Informs Decisions
Updated Navigation to simplify everyday tasks 
Automatically sync sales and inventory information from your mobile device 
Item Notes Area
Improved Search
Define Coupons and Ring up at Point of Sale
Easily Track Sales to Other Businesses
Reorder Points by store
Suggested Reorder Quantities
Inventory Turn Statistic
Include Item Pictures with inventory items
Gain insight with performance ratings for inventory and customers
View committed/available inventory
Provide Great Customer Service
Ring up sales on your iPad, iPhone or Android mobile device
Simple Payments Account Activation
Item Quick Pick allows you to add items that don't normally have barcodes
Customer Center which provides customer insights and communication tools
Easy to create email marketing
PIN Pad with Signature Capture
Easy to use Cashier Screen
Customer Past Due Notification
Merchant Service Reconciliation (requires POS V7.0, POSMS. QB 2008 or later)
Customer Rewards Program with automatic rewards tracking
Everything You Need To Run Your Store Works Together
Messages area allows you to post your own notes
Up to 20 stores' data in one data file
Network-Ready Up to 20 Copies (in one store)
Scheduled store exchange
Manager Override