Our annual HAUNTED Book Club at the Shilhanek's Spooky Castle has a very special call-in guest: Kim Harrison. The 10th Hollows novel, A PERFECT BLOOD is out on 9/24 in paperback and we'll be discussing it and the rest of the Hollows.
About Kim Harrison:
The only girl in a large family of boys, former tomboy Kim Harrison invented the first Brigadier General Barbie in self-defense. She shoots a very bad game of pool and rolls a very good game of dice. When not at her keyboard, she enjoys lounging on the couch with a bowl of popcorn watching action movies with The-Guy-In-The-Leather-Jacket. She plays her Ashiko drum when no one is listening, and is hard to find when the moon is new.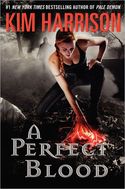 A Perfect Blood
The Hollows
#10
March 2012 Hardcover / September 24, 2012 Paperback
New York Times bestselling author Kim Harrison returns to the Hollows with the electrifying follow-up to her acclaimed Pale Demon!
Ritually murdered corpses are appearing across Cincinnati, terrifying amalgams of human and other. Pulled in to help investigate by the I.S. and the FIB, former witch turned day-walking demon Rachel Morgan soon realizes a horrifying truth: a human hate group is trying to create its own demons to destroy all Inderlanders, and to do so, it needs her blood.
She's faced vampires, witches, werewolves, demons, and more, but humanity itself might be her toughest challenge yet.
The Hollows
"The Hollows," or Rachel Morgan, are detective/mystery novels in an urban fantasy alternate history setting by Kim Harrison take place primarily in the city of Cincinnati and a nearby enclave on the opposite side of the Ohio River nicknamed "The Hollows". The books are told in the first-person point-of-view of Rachel Morgan, a detective witch who works with local law enforcement agencies and faces threats both mundane and supernatural in origin.
Menu
Pasta - Sandi
Parmasan Cheese
Appetizers - Pat
Veggie Tray - Nina
Bread Sticks
Dipping Sauce for bread
Salad - Pasta Salad- Elizabeth
Salad - Tammie
Dressing
Desserts - Linda
Soft Drinks
Wine - Donna