"Daemon Invasion 2.0" - The Alien Returns. Join Jennifer L. Armentrout and model Pepe Toth for launch of OPAL in Humble, Texas on December 15th
There's a new hero in town and his name is Daemon Black.
The worldwide launch for the next book in the Lux series -- OPAL -- brings cover model Pepe Toth to U.S. from Hungary. he'll be joining Armentrout for the festivities on Saturday, December 15th. Open to ALL!
You're invited to the FUN!
The official party begins at 7 p.m. and 100 lucky fans will be the first in the world to receive a signed copy of OPAL which doesn't release until December 18. Besides visits with the author, there will be prizes, swag and one grand prize winner having dinner with both Armentrout and Toth. Both are signing the limited release available ONLY at the Humble Deerfield Barnes & Noble!
"I'm super excited to meet the readers in Houston for the Opal launch party," said Armentrout. "Cannot wait!"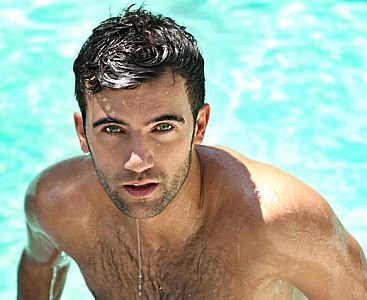 If you're not able to attend the launch party, you can purchase OPAL and have Jennifer and Pepe sign the limited release copies. Just call the Humble Barnes & Noble (Deerbrook Mall; 20131 Highway 59; Humble, TX 77338;[masked]) before 5pm Saturday, December 15th. A perfect Christmas gift! Jennifer is thrilled with her fans reaction to her newest Luxen novel. She will arrive at the store an hour early to sign anything they need to ship. Toth will also be there early and will sign.
Readers can't get enough of Daemon Black. He's infuriating, arrogant, and stab-worthy. He's also incredibly sexy and the most powerful of all the Luxen aliens. And, Pepe Toth IS DAEMON.
When he set out to prove his feelings for me, he wasn't fooling around. Doubting him isn't something I'll do again, and now that we've made it through the rough patches, well... There's a lot of spontaneous combustion going on.
But even he can't protect his family from the danger of trying to free those they love.
After everything, I'm no longer the same Katy. I'm different... And I'm not sure what that will mean in the end. When each step we take in discovering the truth puts us in the path of the secret organization responsible for torturing and testing hybrids, the more I realize there is no end to what I'm capable of. The death of someone close still lingers, help comes from the most unlikely source, and friends will become the deadliest of enemies, but we won't turn back. Even if the outcome will shatter our worlds forever.
Together we're stronger... and they know it.